Published by archerchick on 12 Apr 2012
Bowhunting in Paradise  By Dale Schlehuber
Bowhunting World April 1990
There 's a bunch feeding about 300 yards below us in that brushy pocket," whispered my father. Clifford Schlehuber had spotted 20 of Hawaii's axis deer through his 10x binoculars from a bare knob on the ridge that divides the island of Lanai. "I'll head over to that notch where that bunch ran Friday and try to ambush them if they get spooked," he advised, "and you can try stalking them. But go slow! Remember, every bush and clump of trees has a deer hiding in it! " At various times during our week-long hunt, we had spooked as many as 10 or 15 deer while stalking other animals. We had learned that the spotted axises had used the same notch to escape a hunter, so this time Clifford would be in position to arrow an animal before it could disappear into the bottom of a 500-foot-deep, two-mile-long volcanic gulch.
After waiting a half hour while Clifford circled behind the available cover to get to his "stand", I started down the steep hillside, slowly stepping to avoid any leaves or twigs, following any strips of bare, red volcanic dirt, while trying to maintain visual contact with the grazing herd. The axises had routinely come out for an afternoon lunch after
disappearing early in the morning fog that is common in Lanai. Their routines and escape patterns had been learned only alter three hard days of hunting. Too often a "perfect stalk" had been thwarted by an unseen deer, so each step was followed by a careful inspection of every bush and tree. To my right a 15-foot-high mound provided an excellent observation point high enough to clearly see the herd of deer above the surrounding thicket of trees blocking my planned path. As I topped the mound, I saw movement out of the corner of my eye, freezing me in my tracks.
Achingly. l sat down and spun on my rump toward the movement. A half-grown fawn was eating leaves only 35 yards away. After five minutes, junior's mother appeared from behind a clump of brush 30 yards away. I had pre-set my moveable SightMaster crosshairs for that exact range, and I knew my 65-pound PSE MagnaFlite bow would send the 2114 XX75 arrow tipped with a Razorback 5 broadhead through her chest and might hit the fawn directly behind her. Waiting until the fawn moved out of the line of fire, I slowly raised, drew and picked the spot for a heart shot.
Just as I was releasing half my breath and increasing back tension, a set of antlers moved above the bush the doe had been in. Letting down as slowly as my burning muscles allowed, I watched the upper fork of the small buck bob back and forth as he fed. Although not a trophy class deer, he was a buck, and we hadn't seen any horns while glassing the herd. As this was our last day of hunting, I didn't want to return to Montana empty handed (Sure, you went to Hawaii hunting! See any two-pointers on the beach?), so I resolved to take back a tanned cream and spot-covered doe hide to add to my collection. Now, I had the opportunity for the dark brown and spotted hide of a buck along with plaque-mounted horns!
Distinctive Coloration
Axis deer are natives of India and Ceylon that are spotted for life. Does have a dark chocolate dorsal stripe that turns to a golden honey brown down their sides, becoming a creamy color and white on the belly. Nickle size spots are arranged in rows throughout the body. Bucks tend to be chocolate colored down to the belly, with older males having a charcoal color on the front shoulders and neck. The horns of axises usually have three points to a side; brow tines with a forked main branch are the norm. Large bucks will have horns in the 30-inch-plus category, and make an impressive mount. Although the average buck weighs 160 pounds, some have been known to reach 250.
Axises prefer open parkland forests, but will adapt to dense rain forest. Lanai 's kiawe (mesquite type) mid zone and the upper ridge's eucalyptus forest provide ideal habitat. For 15 minutes the antlers moved about the thicket, without my getting a glimpse of the buck. The entire time the doe remained broadside 30 yards away, making any attempt to move impossible. Adrenaline surged through my system. as nothing can make me get "buck fever" quicker than hearing my quarry nearby but not being able to see it. Trying to calm myself, I recalled the first day of our hunt. We had spotted six deer, one a huge charcoal colored buck with 32 inch V horns and long, heavy brow tines. After a two-hour stalk covering only 200 yards, and spooking a jackrabbit-sized fawn at 10-feet that, fortunately, ran away from the herd, I finally positioned myself for a 25-yard, head-on shot.
As the buck exposed his throat while feeding on an overhead limb, I drew and released too rapidly, resulting in the arrow being deflected left of the mark by a small branch that in my haste, I had not seen. The buck and the herd disappeared into a deep gulch in seconds. Lanai is a small island forming a triangle with the islands of Molokai and Maui. The volcanic island rises steeply from the ocean, with most ofthe shoreline being 200- to 300- foot-high cliffs. The steep slope continues from the ocean upward to the plateau on the center ofthe island. This flat portion is where pineapples are grown. The northern edge of the plateau is bordered by a high ridge that rises to 3,000 feet, high enough to catch the moist trade winds. Often, this ridge is shrouded in fog and rain, providing the island with water from deep wells. Lanai City, the only town, has a population of 1,400 inhabitants, most of whom are of Filipino, Japanese and Hawaiian ancestry, brought to Lanai to cultivate 19,000 acres of pineapples by the island's original owner, Dole.
Now, Lanai is  owned by Castle and Cook Co, whose CEO is David Murdock, a main-land businessman. Koele Company manages the islands pineapple operation, and administers the year-round fee hunting program for axis deer on the eastern half of the island. Archery permits good for the entire year cost $100, while rifle hunters must pay $280 for a one-day hunt.
The fee half of the island is divided into several zones so that each hunter can reserve an  area for himself. For a nominal fee. a guide can be hired through the Koele Company. The best time to get trophy antlers is from May through November. Horns in all stages of
developement can be seen due to the length of the matinig season. Now the real good news! The western half of the island is mantained for public hunting of axis deer and maouflon sheep. The archery season for deer is usually the last two Sundays of February (It's a great way to take the wife on vacation and still get in some hunting.)
The nrst two Sundays of August constitute the mouflon season A one-year, non-resident license costs, get this, $20! Not only can you hunt axis deer and mouflon sheep on Lanai. but you can travel to neighboring islands and hunt feral pigs, feral goats, feral sheep, and if you draw a special permit, blacktail deer. Depending on the island and zone of the island, the limit can be two pigs and two goats . . . per day!  Also, Hawaii has over 15 species of game birds. including three varieties of francolin grouse. three types of pheasant, three types of dove, and Rio Grande turkey. All this for $20.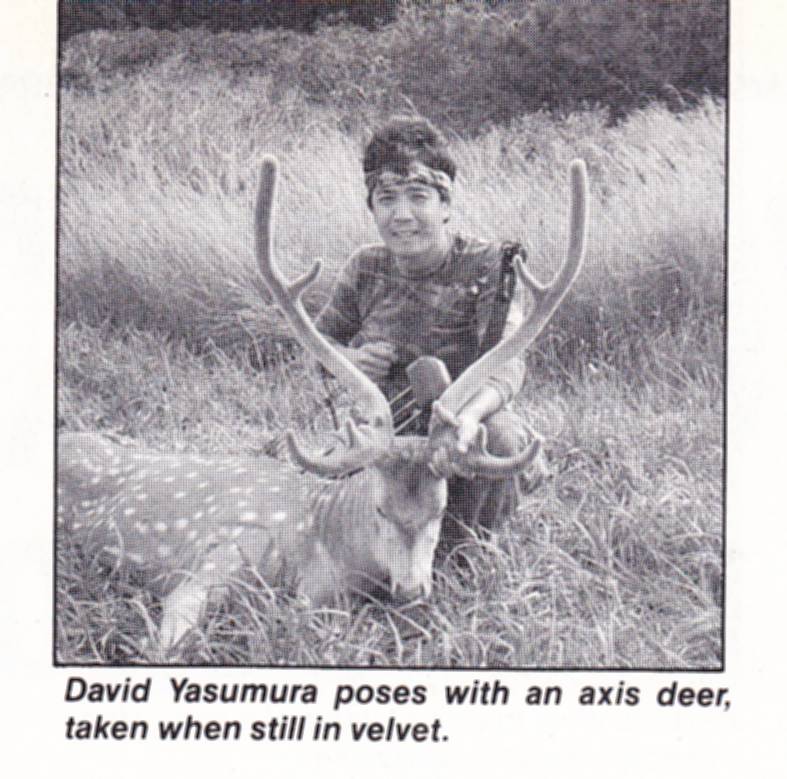 Summer Vacation Hunt
My mainland friends could not believe that I was going to Hawaii exclusively to hunt, especially in August. However, low summer airfares and the ability to combine the public hunt for mouflon with the private hunting for axis deer had me anxiously awaiting August's arrival. We had decided to hunt deer for three days, then take a day off to participate in a tournament sponsored by the local archery club, No Nuff Archers, for the over 300 hunters that arrive for the mouflon season. The tournament is held on a Saturday, followed by a banquet and awards ceremony.
Hawaiians really know how to have fun! We were greeted at the airport by Assistant Game Warden Ken Sabino whom I had met in February on my first visit to Lanai. Ken had arranged for us to use his jeep, although vehicles are available at local service stations. If you rent be sure to ask for a four-wheel drive or pickup as there is little asphalt on Lanai, and most roads to hunting areas are poorly maintained.
Ken then gave us some bad news. The deer had so badly damaged the pineapple fields that the usual surrounding archery zones had been opened for shotgun hunting during weekends. Additionally, special wardens had been spotlighting and shooting the troublesome deer. We were in for some tough hunting, as the axises are normally spookier than our deer of the mainland.
Currently Lanai has only a 14-room hunting lodge, but Koele is building a first class hotel to entice scuba divers to Lanai's crystal clear waters which are considered the best in Hawaii. However, I recommend the Hotel Lanai not only for its great dinners, but also the evening sessions on the hotel`s porch, where locals usually gather to swap hunting stores. I hope the flavor of the lodge and island will remain even after the larger hotel is completed.
Also there is an excellent beach where camping is allowed, but reservations must be made in advance. Toilets, showers and fire pits are available, and a quick swim in the ocean after a hard day of hunting really relaxes a fellow.
Pre-Hunt Tour Helps
 After we had settled in, we took a brief tour of the hunting area. Clifford was amazed by the ruggidness and variance of terrain and t His preconceived notion of a tropical rainforest covering the entire island were dashed by the island's desert zones. Only the 3,000 foot high ridge north of Lanai City was vegetated, covered by a eucalyptus and pine forest. The other two zones were totally different mainly because of the constant mist which provides moisture on the ridge top. The coastal zone vegetation is similar to southwest of Texas mesquite. In this zone, the axises drink the brackish water of tidal pools, since there are no flowing streams on the island.
The steep, rocky, deeply gulched kiawe zone lies between the coast and cultivated plateau zones. This zone is very similar to the arid hills of the Snake and Columbia Rivers of  eastern Washington state.
For three exhausting days we traveled up and down ridges and gulches rising out of abandoned pineapple fields. Later, we learned that in their native India the deer are preyed upon by tigers. Natural selection had made them  warier than even whitetail deer.
Each day we took a two-gallon jug of water to fill our bota bags. The 85-degree humid climate resulted in an empty jug each evening. Our best discovery was that the abandoned fields had volunteer pineapples the locals called sugar pines" because they are much sweeter than those that are harvested.
Sugar pine juice and a sandwich was our lunch. On Friday the mouflon hunters began arriving on DC-3`s used to transfer them from other islands. That evening we exchanged hunting tales with the Hawaiian hunters who had rented a house for the weekend, The Hawaiians were as eager to hear our Montana elk hunting stories as we were to try the local dishes some hunters had prepared for the communal meal. Never have I met people who became friends as easily as the Lanai hunters.
Saturday, I participated in the 28 target tournament, designed as a warm-up for Sunday`s opening day of mouflon hunting. That evening, the No-Nuff Archers held an awards banquet. There were trophies for each division and three flights of first. second, and third places were presented.
Early Sunday morning, we jumped into the jeeps after a quick breakfast of rice and fish balls, which also were wrapped in dried seaweed and placed into fanny packs for our lunch. A large jeep caravan headed towards the public portion of the island. the caravan's headlights lighting up the spiny tops of the acres of pineapples. That morning the sheep moved up and down the kiawe zone due to the pressure of 300 hunters moving about. I saw at least a dozen full curl rams, but couldn't cross to the other side of the rimrocked canyon in which I was hunting.
Later in the afternoon. the sheep bedded down in the thick. man-high silver koa brush, somewhat like a thick, twisted willow. Mouflon sheep, natives of southern Europe, are the smallest of the world's wild sheep. Ewes are usually a light sandy color, while mature rams have forequarters and backs that are black with a white saddle. Ram`s horns are large for the size ofthe animal, similar to a desert bighorn, with full curl and 1 1/4 curl trophies found on Lanai.
Occasionally, rather than curling outward, the horn will come back in close to the ram's head, much like an aoudad or Barbary sheep. Non-residents may hunt mouflon only during the archery season, while Hawaiians must enter a special drawing lor licenses to hunt them with rifles.
I spotted two groups of rams and decided to try stalking the nearest trio bedded in the koa. After an hour and a half, I managed to get 80 yards from two full curls and a three-quarter curl. The stalk suddenly ended when another archer appeared on the ridgeline and spooked the rams. Five minutes later. I spotted them two canyons away, at least two hours of hard hiking for me. I elected to try for the other group of five rams and hiked in their direction. Again, just as I was nearing reasonable bow range, they were spooked by other hunters.
That Sunday no mouflon were taken, y although several archers had opportunities. David Yasumura. one of the Honolulu hunters with whom l had become acquainted. would have qualified for a "ram fever" award if one had been given. Despite having finished second overall in the previous day`s tournament, he emptied his quiver twice. trying to knock down a mouflon ram.
Buck Ignores Warning
 As I recalled the week`s events. the favorable breeze decided to swirl. The doe stared at
my unmoving form. I avoided eye contact, and my thoughts became serene and peaceful, reminding me of a superstition I have. I believe animals have senses other than the five humans have, and can "catch" thoughts.
It didn`t work, however, and she began a "head bob" routine that I had seen many whitetails perform: Fake a move for a bite of grass . . . head up quickly . . . fake the head down a little lower. . . spring up with the head and stare for 30 seconds . . . down again almost to ground level this time . . . and, up again. Then, she had my scent because the wind was directly to her. Three sharp stamps of her foot alerted the fawn, and, I assumed, the buck. also. A high-pitched "bark" and away she and her fawn sped. but without the buck. Where was he?
Doing a "duck walk" around the left side of the mound allowed me to see one of his escape routes. I hoped he hadn`t headed for the herd and spooked them, too. Wait! Freeze! There he was 50 yards away. and not running, but leisurely eating. The young buck had ignored the doe's warning and was now broadside, neck stretched upward as he nibblcd at the fruit of a pukawie tree. The 50 yards downhill were almost bare, providing no chance of getting closer. However, I had spent the summer at our local club range and felt comfortable taking a shot at this distance. l set the sight for46 yards, allowing for the slope. I drew, let out half my breath. held the left arm solid with hand relaxed. increased back tension. and smoothly released.
The arrow sped toward the lung shot I had chosen, however, at this distance there was enough time for the buck to react to the string noise. He stepped forward. the arrow hitting him in the middle. As he circled towards where the doe had been. I could see that the liver shot was going to require some tough tracking in the dense brush in the basin.
I waited an hour before beginning to track. The orange XX75 shaft, minus the last six inches. was laying  10 yards from where the deer had been hit. The surrounding brush`s green leaves were splashed with small, almost misty red dots. making blood trail tracking more difficult. And I knew there would be no blood trail from the liver shot anyway. But, I
still looked. I began making sweeps in the general direction me deer had gone, using the  broken shaft as the center of each increasingly bigger arc.
I heard an animal crash through brush as if it had been spooked from its bed. I was sure  it had been the buck, and searched the area roughly. Three hours later we headed back in the dark. I spent a sleepless night. knowing a wounded animal was suffering. In six years of bagging several deer, two elk, an antelope and a rocky Mountain goat,  I had never lost a hit animal.
The next morning we packed our gear for our trip home. Clifford suggested we drop our bags at the airport and return to the hollow for one more hour or searching. Dad knew how much I wanted to find that buck.
Parking the jeer, Clifford headed up the hillside while I went toward the spot where I thought I had jumped the bedded deer. "l found him! I found him!" Clifford yelled. He hadn't walked 50 yards in the waist high ferns before he almost stepped on the hidden carcass Bowhunting rarely goes as planned, and this trip has been no exception. W
e
both had missed some relatively easy shots at deer and had had an excellent time chasing the sharp-eyed Mouflon. However. I am dreaming of returning next August not only for the hunting and beautiful scenery, but especially for renewing contacts with the friendly people on the pineapple island of Lanai.