Published by archerchick on 16 Feb 2010
GLASSING PROS –By Joe Bell
April 2006
Consider these effective tips and techniques for spotting game out west
The outcome was quite typical. There I was with my handheld 10-power glass while my elbows were braced against my knees, intently scoping out the surroundings, while my good buddy Ron was using his 15×56 Swarovski binocular mounted atop an ultra-sturdy Bogen tripod. I was coming up dry while Ron, who was pretty comfortable leaning against his Jeep, was identifying bucks all over the rugged, desert hillside. It became apparently obvious that I was using a poor glassing system, which was certainly limiting my chances of spotting and stalking a buck that day.
No matter what you hunt, to be most effective you must tailor your equipment to the type of hunting you'll be doing. Out west, first and foremost this means employing clear, high-power optics and various glassing techniques that will enable you to spot game so the hunt can begin.
Personally, I don't know anyone more gifted at spotting game in wide-open western country thatn some of the hardcore bowhunters and guides who live and do most of their hunting in the Southwest.
Here's how many of these hunters approach glassing in such country. And due to their success on tough-to-bag critters, such as trophy mule deer, elk, desert bighorn sheet and Coues deer, I know you'll want to begin employing their tricks and tactics.
Glassing Speed: Good or Bad?
As an outfitter in the Southwest, Chad Smith has one of the best reputations I know of. One of the reasons why he's so successful with clients is due to his experience and savvy at spotting game amid the vast desert terrain. He's done it for most of his life -20-plus years – so this guy knows his stuff.
When I quizzed Chad about his glassing techniques he kind of stunned me with some of his advice. It's not what many so-called experts have been telling us over the years.
"I use 10-power binoculars 90 percent of the time, even in the most expansive country," Chad told me. "I'm more effective this way, since I can look over a lot of terrain, and in a short amount of time."
Also, Chad doesn't use a set pattern when glassing hillsides. He glasses those areas that appear best for holding game and then he moves out to the secondary locations. "I consider myself the world's fastest glasser," said Chad. "Some guys set up and just stare at terrain, virtually picking it apart. Personally, I think this technique limits your ability to cover a lot of terrain. That's why I don't glass this way. It sounds romantic to say you glassed up a leg, antler or ear of a deer, but nearly most of the time you're glassing the whole deer," said Chad, who obviously believes glassing speed can make the difference in success or failure. Of course, this goes against what many say, and that is to pick apart terrain slowly, not sweep past it. But Chad's technique is well-honed, and what many would consider a "sweep" is a fast but well-orchestrated view of the surroundings.
Chad also routinely mounts his favorite 10×42 binocular (either a Leica or Zeiss) to a Gitzo 1228 LVL tripod that is equipped with a 3130 Bogen fluid head, doing a lot of long-range glassing this way. When at a high vantage point and he has already looked over the area with this 10-power glass, only will he then employ a big binocular to scour the terrain. For the past 10 years he's used a Doctor 30×80 binocular for such work, which is no longer available. However, at this time, he's working with the Outdoorsman in Phoenix (800/291-8065; www.outdoorsmans.com), on a prototype binocular that will offer 20-45 magnification with 55mm objective lenses, which he feels will be the ultimate long-range glassing tool.
According to Chad, one of the biggest mistakes he sees novice hunters make is failing to look over a valley or basin with the naked eye first before sitting down to intently glass. Sometimes game can be below you within 100 yards or so, and not a mile away. If you don't scan terrain first, you could spook or limit our chances of the essence, particularly during the early seasons when the window of time when deer are on the move and more visible is 1 1/2 hours or less.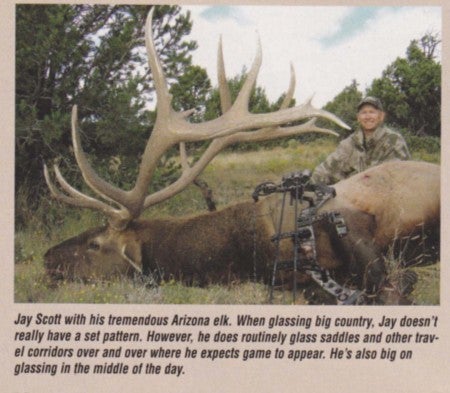 One big misconception out there is always glassing with the sun at your back. You have to learn to glass with the sun in your face. This allows you to look over terrain that is more shaded and more accommodating for animals to bed and feed in. Also, when it's hot, says Chad, it's a good idea to glass the shade all day long because that's where you'll find the animals.
Beyond knowing how to glass, you must know when to start your stalk as well. "If a buck isn't in the right place for a stalk, you've got to wait," said Chad. "We've sat on deer from daylight till dark waiting for the right moment to strike. And even then, you might have to try the next day, or the one after that."
Glass All Day
Jay Scott has been hunting the Arizona mountains and deserts since he was 15 years old. However, he wasn't very effective early on since he relied more on foot travel to locate game, rather than using good hunting optics to do the work. "I was introduced to hunting by my friend Jason Melde, and he was always a very good glasser," says Jay. "Eventually, I ended up catching on over the years and began upping my success."
When glassing, Jay prefers very prominent vantage points. "I feel the more country you can see, the better your chances are of finding the game you're after." Some hunters routinely glass from the truck, which Jay feels can be effective in some cases, particularly when you 're hunting a new place and you need to cover lots of country quickly. "I have been known to stand on top of my truck in some situations, especially in country that's flat with no vantage points," said Jay.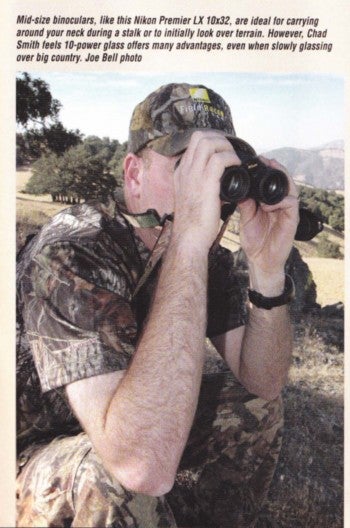 "I really don't have a particular pattern and quite frankly don't necessarily fall for the grid system," said Jay. "I first glass what looks good to me, work the other areas and then do it all over again. If you get too caught up in a glassing grid it may cause you to miss something. For instance, if you are stuck in a grid and a buck walks through a saddle, you may miss the buck. If there are areas that you know will be consistent travel routes you need to be constantly checking back to them and then continue on with your glassing grid. Regardless of your technique, don't leave any bit of terrain unturned with the binocular."
While others consider prime time just that –prime time, Jay believes mid-day glassing has a lot of merit. "Me and my hunting partners have found some of best bucks during the middle of the day. You simply can't quit glassing."
Jay considers the following as the biggest rookie mistakes: not using a tripod, or using a flimsy cheap one; using low-quality optics; not getting comfortable enough to glass for long periods of time; failing to regularly clean lenses; arriving at key glassing spots too late in the morning. "Also, it is absolutely necessary to bed your quarry and then keep your buddy watching while you make your stalk." said Jay. "By bedding the animal you usually are guaranteeing yourself 45 minutes to get into shooting position. A buddy who can signal you during the stalk is a deadly advantage."
Favors Grid Glassing
As a hunting guide, consultant for Swarovski Optik, and native Arizonan, Chris Denham knows more than a thing or two about glassing game in the Southwest. Put more precisely, he knows a lot, and I consider him one of the best I've seen.
"Utilizing quality optics has been the most important part of my hunting for 25 years," said Chris. "I was raised in Douglas and had the good fortune to hunt with Marvin and Warner Glenn. The Glenn family guided for Coues and mule deer using quality binoculars like Zeiss 10x40s and the better Bausch & Lomb models. I quickly learned that my success would be dependant on my ability to find deer before they found me, and quality binoculars gave me the advantage I needed." "All of my optics are made by Swarovski," said Chris. "I carry an 8×32 EL around my neck and a 15×56 SLC, and a STS-80 spotting scope in my pack. The EL is very easy to hold with one hand, which I think is beneficial to the bowhunter during the stalk. The 15-power binocular mounted to a tripod allows me to study fine details and find deer and sheep out to three miles, while the spotting scope is generally used to evaluate trophy-quality. When using the binocular I am not always able to determine if that funny-looking spot is a deer or an inanimate object; in a situation like this, the spotting scope will answer the question and allow you to move on or start stalking."
When chosing a glassing area, Chris sizes up things very methodically. "I pay more attention to the sun than the wind direction," said Chris. "On a cold morning animals will often move to or stay in a sunny spot, while on warm afternoons they will seek out some shade. Either way, don't put yourself in a position that requires you to look directly into the sun."
Like Chad Smith, Chris prefers to initially look over his immediate surroundings without optics. However, once he sits down to glass, he looks over the area systematically, glassing in a grid pattern. "I start at the bottom left corner of the area I want to cover and look at it for 10 to 20 seconds (depending on the species, terrain and vegetation)," said Chris. "After 20 seconds I will move a 'half frame' to the right, so I am essentially looking at each field of view twice. In areas that have a lot of concealed terrain or excessive vegetation, I may go through this routine three to four times."
"Glassing effectively is much like reading a book with fine print; you need to be comfortable and relaxed to be effective. If you are shivering after a long hike, or you are forced to sit on sharp rocks, you will not want to glass for long. Carry a cushion or small chair (especially if the ground is wet) to sit on. I like to carry an extra shirt so that when I get sweaty on a hike I can put on the warm dry shirt when I stop to glass."
"Talent is a gift you are born with and skill is something that can be obtained through proper training. Glassing is a skill, not a talent," said Chris. "The first time I glass with a new hunter I always put them in charge of monitoring each deer I see. When trying to keep track of 1 to 10 deer at a time they learn to recognize deer when they can only see a small part of the deer. The more you watch an animal in multiple presentations, the more likely you will be able to recognize that animal in the future. This is glassing 'practice'."
"When stalking, I like to get within 200 yards with the wind in a safe direction and then study the stalk. You may have a prevailing southwest wind, but there may be a back draft in a small draw or canyon. In the winter (in the Southwest) it is not uncommon for the breezes to change 180 degrees as the frosty morning air reaches its afternoon peak. Pay close attention to what the wind is doing every day, even if you are not on an active stalk. This will improve your decision making when the adrenaline rush of a stalk sets in." <—<<
Archived by
ARCHERYTALK.COM
all rights reserved