Published by Double s on 09 Sep 2011
I took this fella around 4 pm on the 2nd in a CRP field. I call him "Tough Buck". He was bedded down in some sage. I had the wind to my advantage as I made my way to him…slowly. When the wind died down…I stopped…When the wind picked up…I moved. I basically crab walked sideways making sure that I was in Shooting position just in case he heard me and got up. I got to 21 yards and stopped. I had one sage blocking his view of me. I must have ranged the bush he was beside 100 times. I got into shooters position and Yelped at him. I saw his Antlers move left then right…then he got up. I place my 20 yard pin on the right front armpit and fired. I couldn't even hear the impact because of the wind. He bucked up once and dropped to his front knee's. I figured this is it….Nope!. He gets back up and trots off away 40 yards and beds down under another sage. It felt like a great shot but I started to second guess myself. I waited about 20 minutes glassing him. I thought he had expired but he picked his head up again, I knew he was wounded bad. With the high heat I couldn't back out and come back later, the meat would spoil plus i didn't want him to suffer any more. I slowly made my way toward him again using the same tactics. I got into 20 yards of him again and got into my shooters position. I had a west to east wind and it was picking up. I yelped to him and nothing happened…I yelped again, His antlers moved…He was weak. I finally just yelled. He slowly gets up and I aimed for the same right front armpit again. Fired. I see the impact and the blood blow out. He turns around facing east to try to go uphill to get away from me.,he didn't make it. He made it about 25 yards east and rolled. I could see all four hoofs up in the air in the sage. A couple of jerks of the hoofs and he expired. My son Arrived as well as a friend to help out. I gutted him out and we used a tarp to drag him out. After I got him skinned out I could see two puncture holes on the right side, the entrance, almost touching. I call him a "Tough Buck".
He has 6 points on the left side but the eye guard is under the 1 inch rule. So I'm calling it 5.
The right is 4 plus 1 eye guard way over the 1 inch rule. That's a 5.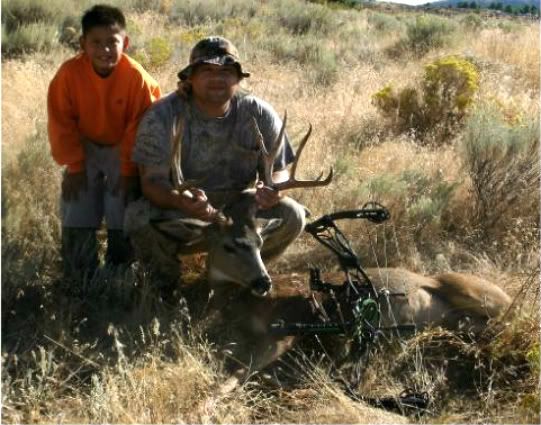 Two entrance holes from 2 blade BH. Right side right above the armpit. I have him hanging head down with head already removed.