Published by archerchick on 12 Apr 2012
Texas Record Book Weekend – By Thomas L. Torget
Archery World February 1989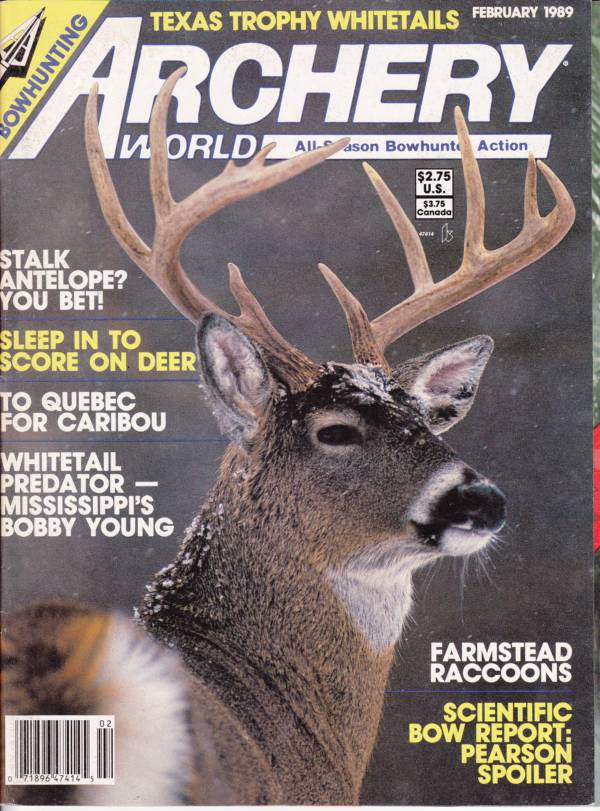 Two Florida Archers Arrive At A Sprawling South Texas Ranch For a Weekend Bowhunt. They leave with THREE Pope and Young Whitetails. Is This Place Special?
For George Cooper, "buck fever'", is
something that happens to the other
guy. After taking almost 100 deer during
the last 30 years of hunting, George is pretty relaxed
when facing yet another routine shot at yet
another routine buck.
At least, that's how it used to be. Things changed dramatically at 9 a.m.
last October 11. That is when George was overwhelmed
with all the classic symptoms of this dreaded
hunter's disease: dry rnouth, pounding heart
high blood pressure, shortness of breath,
sweaty palms and trembling fingers.
ln short, Cooper was completaly unglued.
"I had adrenaline up to my eyeballs!" admits
the veteran Florida bowhunter, "I.was so
shaken up I Was sure I'd have a heart attack
and crash right out of my, stand, I've.never
been so rattled in my life. It was horrible."
The cause of all this emotion was a solitary
whitetail buck. When the deer lifted its, head
high as it stood 80 yards away, Cooper knew
this buck was special. Its thick rack sported
10 enormous tines that seemed to reach toward
the south Texas sky. As the buck stepped
out and began moving down the trail, the bow
hunter eased into position fo ra shot.
"There were several does and smaller
bucks nearby when I first saw him," he
explains. "He walked slowly toward the pond in
front of my stand. When he reached the water's
edge and lowered his head for a drink, he
was just 15 yards away. I tried drawing my 80-
pound bow, but l was shaking badly. The arrow
rattled against the rest and the sudden
noise spooked all the deer."
The big buck, however, did not panic. He
slowly trotted off, stopping 45 yards away.
When the deer tumed broadisde and glanced
back toward the pond, Cooper didn't hesitate.
He held his 40-yard sight pin behind the
buck's shoulder and let the arrow fly.
"I flubbed the shot badly," he concedes.
"I was sure he was 40 yards out, but he was
actually closer to 50. My arrow sailed right
under his chest and off he went. I felt totally
miserable about screwing up such an opportunity.
Bowhunters don't get chances like that
every day. In fact, most of us never see a buck
that big, much less get a shot at him."
Five minutes later, the impossible happened:
The big buck came back. As the
whitetail paused at the water's edge just 18
yards from Cooper's stand, the shaken bow-
hunter was determined not to miss again. The
buck was quartering slightly toward the
hunter as his arrow drove through both lungs,
putting the buck down for good after a 150-
yard sprint.
As Cooper stood over his magnificent trophy,
he had to pinch himself to be certain all
this was real and not just a bowhunter's
dreamland fantasy. The events of the past
three days certainly seemed unreal. Cooper
and his hunting companion, Hal Arve, had
come to the Kenedy Ranch in south Texas for a
weekend bowhunt. They fully expected to see
plenty of deer and they were optimistic that
they'd locate some good bucks. But these veteran
bowhunters knew how slim the odds
were they'd be able to arrow a Pope and
Young record-book whitetail. So as Cooper
stared down at his incredible trophy, their
third of the weekend, a reality test pinch
seemed appropriate.
Reality Strikes
The adventure began several months ear-
lier when Cooper and Arve decided to travel
to Texas to hunt the largely unknown Kenedy
Ranch. From the perspective of a whitetail
deer hunter, this place is like no other. Headquartered
60 miles south of Corpus Christi,
the ranch covers 400,000 acres of some of the
finest deer habitat in Texas, a state that's home
to more than 20 percent of all America's
whitetails. And most amazing of all, the ranch
went virtually unhunted for more than a century. Hunting by anyone other than family
members and friends didn't begin until 1986
when Sarita Safaris, Inc. , an outfitter based in
Corpus Christi, obtained commercial hunting
rights to some 66,000 acres of the ranch. That
year, 52 rifle hunters harvested 62 bucks that
averaged 6.5 years of age. Almost 30 percent
of the bucks taken scored between 145-166
Boone and Crockett points. Only seven of the
62 bucks taken scored fewer than 130 points.
How 's that for a season's harvest?
As the 1987 whitetail season drew near,
Sarita Safaris began receiving inquiries about
bowhunting opportunities on the ranch. A
bowhunting program was established and
Cooper and Arve were told they'd be welcome
to test their luck during Texas' October
archery season.
"We arrived Thursday night, October 8,"
says Arve, a 36—year-old insurance salesman
from Homestead, Florida. "George had
hunted the ranch with a rifle the year before
and had told me it had plenty of big bucks. We
were really excited about the prospect of taking
a record—book whitetail with our bows."
"This may sound crazy," adds Cooper, a
50-year—old farm machinery dealer from
Princeton, Florida, "but the toughest challenge
we faced was making sure we didn't
shoot the wrong deer! There are plenty of
young bucks on the ranch in addition to the
very mature bucks that are six to eight years
old. When you're not used to seeing so many
mature whitetails, a three or four·year-old
eight—pointer can be very tempting. So we
made sure we spent the first day just looking
over what was available. We kept reminding
ourselves to be patient.
Friday morning Cooper and Arve were
both in treestands before daylight. Perched
high in their mesquite trees, they saw plenty
of deer, including several excellent bucks. But
neither archer was offered a close-range shot
at the buck he wanted. Arve watched a mas-
sive 10-pointer pass within 25 yards of his
stand, but a limb obstructed his shooting lane,
preventing a shot.
Saturday afternoon Cooper drove around
the ranch with guide Mike Mireles in an effort
to locate a big buck that might be stalked. The
pair found a handsome 10-point buck and
Cooper managed to sneak to within 40 yards.
After evaluating the buck's rack, however, he
chose to let the deer pass in hopes of finding
something better on Sunday morning.
Arve, meanwhile, was back in his treestand.
At 7 p.m., he watched a beautiful 10-
point buck approach slowly toward the water
hole in front of his stand.
"He sparred pretty good with a big nine-
pointer," says Arve. "He really intimidated
that other buck. After their bout, the 10-
pointer walked to the edge of the water and
lowered his head to drink. He was 20 yards
away and I knew this was my chance."
The arrow launched from the 75-pound
overdraw bow struck the buck in the neck,
severing the jugular. The deer raced around
the pond and into the thick grove of oaks before
piling up 150 yards from Arve`s stand.
The whitetail's rack scored 135 Pope and
Young points, easily surpassing the 125-point
minimum for a typical whitetail.
"I was really proud of that deer," beams
Arve. "I'd taken 10 whitetails with a bow pre-
viously, the best being an 11-pointer I arrowed
near Lake Okeechobee in central Florida.
But none of those deer compared to this
one. This was a real mature trophy — six and
a half years old."
Don Quixote
Sunday morning found Cooper perched
atop a unique "treestand" he'd constructed
out of a pair of two-by-ten boards.
"I wanted to hunt a spot where a game trail
passed close to a water hole," he explains.
"The weather had been extremely dry for
months and the deer were really coming to the
water. The best spot seemed to be atop a metal
windmill. So I lashed two boards together
near the top of the structure and made what
looked like a swimming pool diving board. It
was a one-of-a-kind treestand, that's for sure.
It may not have been pretty, but it sure
worked!"
It was from this stand that Cooper arrowed
his trophy buck. It was six and a half years old
and scored 149 3/6 Pope and Young points,
ranking it among the top five whitetails ever
arrowed in Texas.
Arve, meanwhile, decided to return to his
mesquite tree for Sunday morning's closing
hunt. "l had been watching a big 10-pointer
come and go over the weekend," he recalls.
"For the past two mornings, he'd come
across the field to the same spot at the edge of
the pond. He was never in a good position for
me to shoot from my treestand, so I moved to
a ground blind about 25 yards from the mesquite
tree. It was nearer the water and I
thought it might give me an opportunity for a
shot if that buck came by again.
Hunched low in the branches of his makeshift
blind, Arve squinted through dawn's
first light at a faint movement near the mes-
quite tree 25 yards away. The 10-pointer appeared.
"The first time I leave my treestand,"
laughs the bowhunter, "the buck comes down
the trail next to that tree and stops tive yards
away — broadside! There was a lot of high
grass between us, so I didn't have a shot right
away. I eased up on my knees and waited for
him to move into a gap in the grass that would
give me a clear shot. When things looked
right, I drew back and released. The shot
looked perfect, but I couldn't be sure where it
hit. He only ran about 20 yards and stopped. I
tired another arrow and this one hit him in the
neck. He went down for keeps. My initial
shot, it turns out, was a good lung shot."
Arve's second buck was an amazing eight
and a half years old. Its rack tallied 144 4/8
Pope and Young points, placing it among the
top 10 bow-killed whitetails in Texas.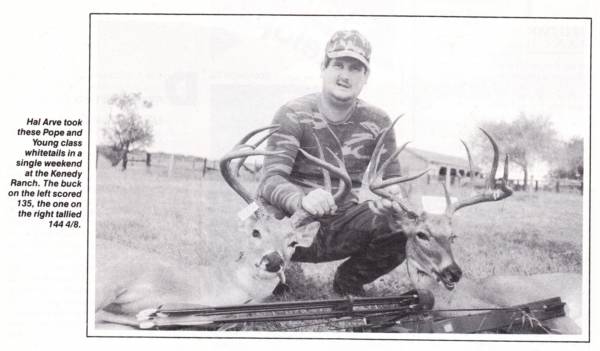 Whitetail Heaven
How can one ranch have so many high-
scoring whitetail bucks? The answer lies in
both the ranch's location and its history. The
property is located in one of the best trophy
whitetail areas of the South, the well-known
"brush country" of Texas. More than 80 per-
cent of all Texas whitetails listed in the Boone
and Crockett record book were taken in counties
located south of San Antonio. The Kenedy
Ranch lies near the southern tip of the state,
where the terrain is a mixture of oak groves
and rolling grassland pastures. Much of the
ranch 's eastern and northern borders lie along
either Baffin Bay or Laguna Madre, waters
which connect to the Gulf of Mexico. It's a
unique experience watching trophy whitetail
stroll along a sandy beach, but it's a scene
often witnessed on the Kenedy Ranch. And,
there's plenty to see in addition to whitetail
deer.
"The ranch is loaded with wild turkeys,
javelina, feral hogs and nilgai," says Gerald
Ashbrook, a member of Sarita Safaris' board
of directors. "The nilgai is an antelope im-
ported from India. It's a huge animal, almost
as big as an elk. We have about 10,000 bulls
and cows on the ranch. They're tough _to hunt
so they make excellent trophies. The meat is
delicious, too, tasting much like beef."
Ashbrook says the ranch was founded in
1866 when Mifflin Kenedy dissolved his part-
nership with Richard King. The result was the
formation of two enormous ranches, the
Kenedy ranch and the more well-known King
Ranch.
Until 1986, hunting on the Kenedy Ranch
was limited to the Kenedy family members
and a few friends. Much of the property is
now owned by a foundation established by the
Kenedys, and it is that foundation which
leases commercial hunting rights to Sarita Safaris.
"We've had two terrific seasons so far,"
says Ashbrook, "and we're looking forward
to many more. Obviously, we've got lots of
land to hunt and we're careful not to overhunt .
any part of it. Next season, we'll use some
new areas and we'll 'rest' some of the areas
we've hunted in 1986 and 1987."
Ashbrook noted the ranch includes
230,000 acres that are off-limits to all hunt-
ing. "That area is a permanent game preserve
that will never be disturbed by hunting," he
says. "We realize we've got something spe-
cial here. Our challenge is to maintain the
high percentage of mature deer that we have in
our whitetail population. The high numbers
of six, seven and eight-year-old bucks is what
makes this ranch unique. There just aren't
many places where deer have the chance to
live that long. When they do, they can grow
some pretty impressive headgear! "
George Cooper and Hal Arve agree. Even
before departing the ranch last fall, they made
reservations for a return trip in 1988.
"We saw more Pope and Young-caliber
deer in three days last October than we've
seen in decades of hunting elsewhere," says
Cooper. "You can bet we'll be back next October.
If there's a better place in the world to
bowhunt whitetail deer than the Kenedy
Ranch, I sure don't know where it is."
Author's Notes
Information about bowhunting the Kenedy
Ranch is available from Sarita Safaris, Inc.,
PO. Box 8995, Corpus Christi, TX 78412.
The ranch is located in Kenedy County and is
headquartered 60 miles south of Corpus
Christi. Out-of-state bowhunters can reach
the ranch via commercial airline service to
either Corpus Christi or Harlengen.
Bowhunting fees are $125 per day, plus a
trophy fee for each animal harvested. Trophy
fees range from $100 for a whitetail doe or
javelina to $3,000 for a whitetail buck. The
daily fee includes all meals and lodging in
modern cabins at either of the two hunting
camps operated by Sarita Safaris.
Texas' archery deer season usually opens
the first Saturday in October and runs about
30 days. The state's general deer season (gun
or bow) usually opens the second Saturday in
November and ends the first Sunday in January.
ln most counties, the fall turkey season
runs concurrently with deer season.
A Texas hunting license costs $10 for
residents and $200 for non-residents. A $6 arch-
ery stamp is also required of anyone bowhunting
deer or turkey during the October archery
season, In Kenedy and most other counties, a
hunter may harvest four whitetails,
two of which may be bucks. A copy of Texas` hunting
regulations is available from the Texas
Parks and Wildlife Department,
4200 Smith School Rd.,
Austin, TX 78744.
>>—>
Archived By
www.Archerytalk.com
All Rights Reserved