Published by archerchick on 21 Feb 2010
HIGH ALTITUDE MONARCHS  Story & Photos By Lon Lauber
September 2002
Among the crags of North America's steepest mountain country are two incredible bowhunting animals
http://www.bowandarrowhunting.com
I've had the good fortune of bowhunting all over the North America and nothing compares to hunting Dall sheep and mountain goats.  Dense alder thickets turn to scarlet tundra, then it gives way to craggy peaks.  Amongst those daunting spires you'll  ever dream of hunting.
Let's climb right into the ups and downs of bowhunting Dall sheep and mountain goats.  First, to build a solid foundation as a mountain game bowhunter, you must learn the senses, habits and habitat of sheep and goats.  Here's a comparison of the two white monarchs of the north.
RATING THEIR SENSES
Dall sheep and mountain goats have excellent vision.  They live in wide-open terrain and rely heavily on detecting movement as their first line of defense. The difference in their vision is what they do once they see a human. In areas where either species is hunted heavily. they'll turn and climb into the heavens upon the first sight of man.
However. in most sheep and goat habitat, hunting pressure is moderate to minimal. Depending on the individual sheep. they may bolt when you peek your head over a ridge. Or, they may act curious at first. The big difference is goats are almost always phlegmatic (slow to respond,).
So, a billy upon seeing you may just stand up and stare, gauging the potential danger. before sauntering up into cliffs.  Frequently. this will give you enough time to execute a good shot – even though the animal is looking at you!  Sheep are not as likely to stand around.
For example, after a week of scrambling up and down the hog-backed ridges of Alaska's Kenai Mountains. I finally found a dandy Dall ram. He was nibbling lichens in stair step ridges. This terrain provided the ultimate concealment from his sharp eyes. I circumvented the mountain to get the wind and terrain in my favor. Hours later. I had stalked within spitting distance of this full-curl ram. His head was down feeding and a rock blocked his vision. I thought  l'd made the perfect stalk. But it was so steep; I was standing one foot on top of the other. Maintaining my balance was
tough: shooting an accurate arrow would've been impossible. I eased forward to better footing. The ram whipped his head up and looked my way. I Froze. Shortly his head was down feeding again. I was on steadier ground. Unfortunately, the ram must have seen movement with peripheral vision. When I drew in slow motion, he blitzd! In a flash of white hair and golden horns, my perfect stalk vanished.
Two days later, in a similar scenario -except I waited until the ram's eyes were obscured by his horns-l killed a larger ram. I'm quite certain, in similar circumstances. a mountain goat would have stayed and taken the shot.
Both species have excellent noses. I've had sheep and goats head for the hills when a swirling breeze telegraphed my presence. One time, I remember glassing up five full-curl rams in a steep, rocky basin. l spent four hours climbing snow-and-ice-covered cliffs to get above and behind these sheep. When I finally had position, the wind shifted. It was drifting right down the canyon to the rams. It didn't take long for them to catch a whiff of me and haul butt In a matter of minutes. they raced down the mountain, across a boulder-strewn glacier and up and over the opposing mountain.
In regard to hearing, sheep and goats have rather small ears on their body size (compared to deer, elk and moose). But they can hear sounds just fine. Once again, it's a matter of how they respond. Realize gravity and the constant freeze/thaw action in their domain creates falling rock on a daily basis. If you tumble an occasional rock its no big deal. The biggest problem you'll have with sound is a predator's cadence. If you walk at a steady pace and rocks are sliding constantly. this sound alerts all mountain game. From their perspective, this is the noise of a traveling bear or wolf. If' you tumble a boulder, just sit tight for a few minutes. I remember unintentionally kicking loose a mist of scree that cascaded down on a billy. He never even blinked. I killed him just a few
minutes later.
HABITS
Each species has similar daily routines. Understanding these routines will improve the odds of success.  Typically, mountain game spend the night in predator-free cliffs. At first light, they'll rise, stretch a bit and then carefully study their domain.When all is dear, they'll head for lush vegetation. Most of the time that's at lower elevation than bedding areas. After feeding for several hours on sedges, grasses or low shrubs, sheep and goats climb back up to a safe ledge and chew their cuds. While ruminating, they may rearrange or change bedding locations. However, unless disturbed, they'll be in the same general area for several hours. By mid afternoon, the white ones head for food again. By dark, they are in the safe confines of treacherous terrain. This outlines undisturbed mountain game behavior. However, hunting-pressured animals may stay in the cliffs for days without coming out.
Mountain critters live mostly in the alpine. Regardless, both species occasionally feed in alder and
evergreen thickets in the lower reaches of their vertical domains. Don't overlook these areas when glassing habitat that seems void of game.
One time when hunting white rams in the Chugach Mountains, I had glassed the upper reaches of a mountainside. After glassing the cliffs, I glanced at the lower ledges. These were spotted with alders. Surprisingly, I found an old, black-horned ram feeding in alders next to a cliff. I had lots
of steep terrain to obscure my approach. Hours later, after a hair-raising cliff climb, I was precariously standing on a ledge just 20 yards above this old Pope & Young-class ram.
When he stuffed his snout into the alders for another bite, I quietly stepped to the cliff's edge and zipped an arrow through his lungs. This is one occasion when glassing the lower, brush-choked canyons paid off
HABITAT
Dall sheep can be found in a variety of terrain, anything from rotten vertical cliffs to steep-sided mountains with relatively flat tops. I've even Found sheep in almost flat country.  However, escape terrain is always nearby. Goats on the other hand are generally on or very near cliffs all the time. In many regions both species live above steep,  thick  , brush-choked basins that require the ultimate in physical stamina. Busting up though Devil's Club and alders only to break our into even steeper alpine will test your mettle.
The lateral moraine of glaciers is a good place to look for mountain game. These rugged corridors where the glacier has receded contains the youngest, most tender plant life in the area. One easy way to find productive habitat for sheep and goats is to apply for lottery drawing hunts. That way, the game department dictates the hunting area. This narrows down the research necessary to pinpoint productive habitat.  When studying maps, locate basins or stream drainages with several side canyons so you have alternative hunting areas. If you spook the only white monarch out of
a box canyon, all your effort is wasted. Learning to interpret topographical maps is paramount too. I recall planning out a hunting route by studying a map. After two days of climbing. I learned circumventing this particular mountain was impossible without tactical climbing gear.
HUNTING TACTICS
Most of the time sheep and goats will be easy to locate. Yellowish-white game on dark rocks is like looking for popcorn on a black carpet. Getting to them is the challenging part! It's difficult because they live in open alpine where they can see for miles (except where steepness blocks their vision).
Especially glass into the dark shadows and every nook and cranny you can find. Frequently, you'll catch just a glimpse of white hair or horn jutting our near a promontory.
Basically, there are two tactics for sheep and goat hunting. The most productive is spot and stalk. The second method is patterning undisturbed game. I've seen sheep and goat use the same general travel route in consecutive days but they don't pattern like whitetails. Either way, you must eventually stalk to kill a mountain animal. Here are my preferences for getting within bow range of sheep and goats.
For sheep, I like to glass 'em up at long range with binos and size up trophy potential with a spotting scope. I'll watch them for hours or even days if necessary before making a stalk. What I'm waiting for is the sheep to move into vision-blocking terrain that provides the best chance of getting within bow range. If that happens when they are grazing. fine. If a Dall ram beds in a stalkable area, I'll go after him there. Regardless. I'm most concerned with concealing terrain. lf I start out on a stalk and realize it won't come to fruition because it's too open or the wind is iffy, I carefully abort the stalk. If you spook a ram, he's likely to head for the next mountain range or spend a few days in rope-rappelling cliffs until he's forced to greener pastures.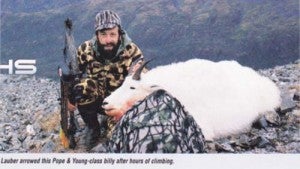 For goats, it's a similar concept just more physically demanding. Sooner or later a billy will saunter into somewhat humanly traversable terrain.  When that occurs, get above and approach from his blind side. This is the chink in the otherwise impenetrable survival armor of a mountain goat. They are so confident they can out-climb predators; they rarely flee immediately-even if you're within bow range. This is especially true if goats are on or near cliffs when they spot you. Furthermore, this arrogant climbing attitude-almost always prevents goats from looking up. ' Thus, if you can get above a mountain billy without being detected, you stand a good chance of killing him.
A few years ago I used this tactic to kill my biggest billy. He and two comrades were bedded on a small tundra-covered ledge just yards above 1,000 feet of vertical cliffs. From nearly a mile away, I mapped out the safest and most concealing stalking route. When I was about 400 yards away, I set up my spotting scope and determined which of the three billies had the largest horns. From there I crawled on hands and knees, utilizing a crossing breeze. I was in plain sight of all three goats for most of that last quarter mile. The billies never looked up or behind. At2 5 yards, just beyond a mogul, I could see the goat's head and hefty shoulders. After several minutes of standing in view, the goat noticed my presence. Instantly, his hair bristled and he stood up and stared.
Looking dumbfounded he calculated what danger I posed. I'm certain no animal had ever
approached him from above and behind. His hesitance cost him his life.
SHOT PLACEMENT
On the grand scheme of things, picking a spot and killing a Dall sheep is very straightforward. Textbook shot placement, a third of the way up from the brisket and in the crease behind the
front shoulder, is perfect. Generally, sheep are not very tenacious. Any internal body hit should put them down. I know one guy who killed a big Dall ram by a broadhead cut to the "wrist" area just above the hoof. I'm not advocating sloppy shooting, I'm just saying that if you do make a marginal hit, do not give up.
Goats are tough as titanium nails! They have thick coats to insulate them
from their icy environs. Plus, billies have dense muscle and stout bone
structure.  Additionally -. they have a die-hard mentality. Understand a
goat's vitals are more underneath his massive cliff climbing front shoulders
than behind it
.
For example. one teeth-chattering September evening, my partner shot a huge billy right behind the front shoulder and one-third the way up from the brisket. I was watching through binos and thought it was textbook shot placement. When the goat was still alive and standing in a vertical chute at dark, I was astounded. We recovered the billy from the bowels of that cavernous canyon the next morning. An autopsy showed the broadhead had clipped the back of one lung and completely impaled the liver. This shot placement on a sheep would have taken out both lungs.
However, with goats, I'd advise shooting tight to the shoulder or even better, take slight quartering-away shots.  This will undoubtedly angle the arrow into the vitals. Furthermore, will you be able to
physically recover the downed animal.  There is little sense in shooting a white monarch only to have it freefall over a 500-foot cliff with no human access.
One goat I shot tumbled several hundred yards down a rock ledge and slide area. Gravity eventually sent him to the glacier's edge. It took about an hour to safely climb down and recover him. After killing one ram, he tumbled off a 200-foot ledge. Upon impact, he literally exploded. Forty-five minutes of cliff descending were needed to reach him. Hopefully these illustrations will alert anxious bowhunters to carefully approach mountain game hunting.
Sheep and goat hunting are financially, physically and mentally taxing.
However, if you ever get the chance to quit dreaming and actually hunt the white monarchs of the north, go for it. Both species are excellent table fare and unique trophies. Combined with
their awesome habitat it'll be a breathtaking experience to say the least. <–<<
Archived by
ARCHERYTALK.COM
all rights reserved