Published by archerchick on 20 Mar 2010
Early Bucks – By Steve Bartylla  September 2005
http://www.bowandarrowhunting.com
Don't let non-rutting bucks intimidate you. Here's the key to successfully ambushing these seemingly wary deer.
This is too good to be true. That was my first thought when one of the owners of the hunting outfit I was with confidently stated that I would leave Alberta with the opportunity at a 150-inch or better buck. Now, I could see that he hadn't been exaggerating. There, 20 yards away, stood a clean 10-point that would measure somewhere in the 160s. Because I was shooting expandable heads, I was unable to cover the windows of my Double Bull blind with shoot through mesh. To safely conceal my movement, I would have to wait until the buck dropped his head.
As the buck pawed to reach the snow-covered alfalfa, seconds seemed to drag on for minutes. finally he dropped his head to feed and gave me the chance I was waiting for. However, what happened next is not nearly as important as the events that lead to this point.
An unexpected family matter had trimmed my scheduled eight-day hunt to merely three days. To complicate matters more was scouting land I'd never stepped foot on and a fresh snow that had erased the deer trails. The final kicker was that the rut cycle in Northern Alberta lags significantly behind the upper Midwest. The result was that despite the snow and cold temperatures, I'd be hunting non-rutting bucks still in their early-season patterns.
The first day of the hunt was interesting, to say the least. Because of my unfamiliarity with the area, I set a stand that provided the best view of a large alfalfa field. I reasoned the odds of a monster naturally traveling within bow range were slim, but I hoped this placement would allow me to spot and pattern a mature buck.
I also had an ace up my sleeve. With timber wolves being the greatest threat these deer would face, I was told that the deer found safety in numbers. To create this illusion, I set two Montana doe and a Custom Robotic Wildlife buck decoys out in front of my stand. To my amazement, this approach produced 21 different buck sightings in a single afternoon!
Though this group included several good bucks and one true slammer, the mission was not accomplished. As things so often go when hunting, the big boy entered the field from one of my stands blind spots. I was unable to narrow down his trail, and an overnight snowfall eliminated any chance of backtracking. However, I was closer than when I began. I knew it was very possible to take a mature buck off the field. With having already hung a low-impact morning stand in the woods with my scouting efforts.
The next afternoon was the true key. With no one location along the woods providing a view of the entire field, I did what I should have the first afternoon: I pulled the truck into some cover that provided a full view of the large field and strictly observed. As luck would have it, the mid-160s buck entered the field again just before dark. I was in business.
The next and final day, I did what I believe is one of the keys to consistent success on early-season bucks. I set up where my observations had dictated. I positioned myself where I observed the slammer entering the field.
With the morning hunt out of the way, I was ready to make my move. Having mentally marked a strategically positioned round bale the afternoon before, I made a bee-line across the field. After clearing the snow from the floor area, I positioned the Double Bull blind behind the bale and covered it with excess snow. Retracing my path across the field, I had managed to keep my disturbances to a minimum.
Later that afternoon, I followed the entrance path through the field back in. Thirty yards before reaching the blind, still 50 yards from the wood line I placed the RoboCoy buck decoy. It was my hope that any nearby deer would focus their attention on the decoy, pulling their eyes away from the blind. With some buck urine placed between it's back legs, I entered the blind and settled in for the hunt.
Several close encounters with does and young bucks later, we return to big boy entering the scene. As I slowly raised my bow to shoot, tragedy hit. The inability to cover the windows in mesh and a perfect sun angle allowed for light to reflect off my bow. Just that quick, the buck's head snapped up and he began staring a hole into the previously unnoticed blind. Freezing, not quite in position to draw and unable to move undetected, I knew the gig was up. Two explosions of snow from his hooves and he was gone.
As light began to fade, an eight-point in the mid120s strolled by the blind at 10 yards. i spent the closing minutes of my brief 2004 Alberta hunt watching his interaction with the RoboCoy. Though the hunt ended with an unfilled tag, I feel it beautifully illustrates the key to taking mature bucks that are exhibiting early-season behavior.
Find the Food Source
To begin with, consistently taking early-season bucks starts with identifying the best food and/or water sources. This is typically the foundation from which early-season tactics are built upon. The first of this groundwork can be laid in summer. One step in accomplishing this is glassing oaks. Doing so allows you to gauge the coming fall's acorn crops. An oak tree doesn't produce acorn crops each year. For one thing, it takes the acorns of most members of the red oak family two years to mature. Therefore if an individual tree produced last year, it isn't capable of producing again this season. White oaks are able to produce fruit every year , but that doesn't guarantee production. Droughts, untimely high winds, late frosts and insect infestations are just some of the things that can cause crop failure or low rates of production. Glassing oaks during summer can go a long way toward pointing you to which ones should be hunted in the fall.
As with the oaks, various factors can affect farm crops as well. For example, late-planted soybeans are more likely to still be in the highly desirable green state when season opens. Lack of fertilizing, heavy weed infestations, too much rain or too little all have adverse affects on crop production. A late summer inspection shows the health and maturity state of the crop. Simply put, each plant species has a maturity state at which it's most desirable, and thriving crops have a lot more drawing power than ones struggling to produce. Summer inspection can go a long way toward showing the hunter where the big boys will be feeding when summer begins.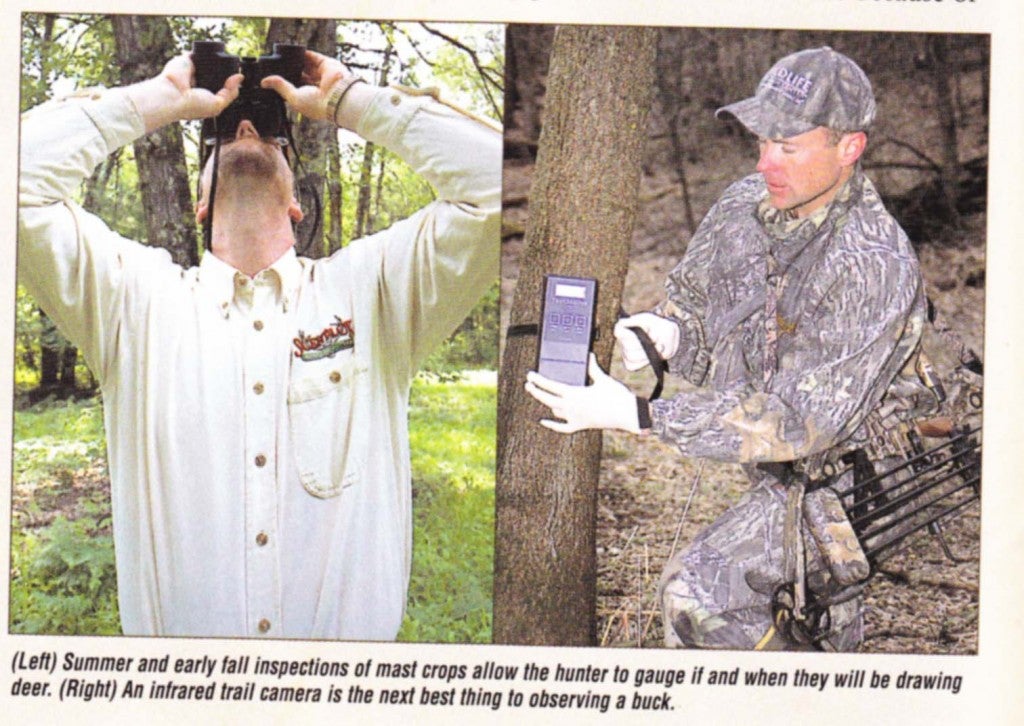 That proved helpful in taking my 2004 Wisconsin buck. A long east-west ridge paralleled valleys filled with corn and alfalfa. With the area yielding a nonexistent acorn crop, it was easy to determine that alfalfa, would be the best draw. After that, it was a simple matter of observing the buck and following his previous year's rubline to a good ambush point. The third day of season the mid 146 4/8-inch 10-point was mine.
Find The Buck
As was the case with both the Alberta and Wisconsin bucks, finding them is incredibly important. The vast majority of off-season buck movement occurs between bedding and water and food sources. Without knowing a specific buck's patterns, we must rely on blind luck. Furthermore, because bucks are moving so much less than when the desire to breed begins kicking in, placing our faith in luck is most often an endeavor wraught with disappointment.
Seeing a mature buck removes any doubt if there is one in the area to harvest. As obvious as that sounds, it's amazing how many hunters don't take the simple steps to determine if a buck meeting their standard is present. The easiest way to accomplish this is to observe the food source. In many situations, this can be done without having to leave the truck. In the case of both bucks, all it took was arriving before dark, pulling the truck into some cover and watching what came out where.
When the setting isn't suited for vehicle observation it's often impossible to perform in-field observations. When doing this, it's important to keep the odds of being busted by deer to a minimum. Playing the wind, calculating the best route and observing from a distance are all helpful. Infrared trail cameras can also be helpful tools for finding mature bucks. Determining if a shooter is present can be as easy as placing it over a water hole or hopping the units around around the food source.
When covering food sources, I begin by placing infrared units in the areas that show the heaviest signs of feeding. If the food source is too large for one setup to do it justice, after a week or two, it can be relocated to cover another section. Commonly, a month is more than enough time to determine if and where a mature buck is entering the food source.
Nail His Trail
The "where" component is nearly as critical as the "if." As already mentioned, early-season buck movement is rather limited. Because bucks aren't roaming all over the woods it becomes more important to be sure that your stand is covering one of his primary trails. Obviously, both trail camera and observations can answer what trail(s) he uses most often. When relying on observations, be sure to mentally note a landmark that will later lead you to the trail. In the excitement of seeing a shooter on your hunting ground it becomes remarkably easy to not notice the exact trail he uses. Disciplining yourself to note a landmark before drooling over his rack increases the chances of of finding that trail later.
Another means of identifying a mature buck's trail is by looking for fresh rubs. Rubbing activity is inspired by two factors. The first is to aid in the velvet shedding process. Next is the gradual rise in testosterone levels. During velvet shedding, young bucks don't commonly exert the energy to truly rip up a tree. Shredded trees are more often the result of testosterone levels. Furthermore, the blood levels of testosterone in mature bucks rises higher and faster then their little brothers. Because of all that, well-worked September and early October rubs are good indications of a mature buck.
Though there are fewer rubs in early season, there are often enough to determine a mature buck's trail. Doing so can be accomplished by circling the food source and following each trail a short way into the woods. Because many early rubs occur as the buck stages up just before entering the food source, following each trail no more than 100 yards is typically enough and also keeps our disturbances down.
Minimize Disturbances
Minimizing our disturbances is important. Ideally preparing our stands should be done during midday hours without leaving leaving tell-tale odors or signs of our stand preparations behind. The setting for the Alberta buck was ideal. With the buck trail located from a distance, I slipped in and prepped the blind with out stepping in the woods. With the wind blowing out into the field and the round bale hiding the blind, no deer could pick up on my intrusion until after they were already within bow range.
More commonly, some intrusion into the woods is often necessary. Taking odor control steps, proper timing and and keeping trimming low all will help. Another way to minimize disturbances is planning the best route in and out of the stand. Hunting in and near food sources is a productive early-season tactic. If pressure is kept low, it's possible to intercept mature buck feeding activity before dark. Still the bucks don't always cooperate and can certainly show up after dark. It goes without saying that it often takes more than one hunt to fill a buck tag. One of the primary reasons that a stands odds of producing go down with each hunt is because of sloppy entrance and exits.
When selecting routes, be sure to take the most low-impact choice, regardless of the extra effort it may require. Irrigation ditches, erosion cuts or any other feature that limits the chances of crossing deer trails and keeps our profiles low should be explored.
When a good route out doesn't exist, having someone drive to the stand to extract the hunter is an option. In most settings, deer will be much more tolerant of a vehicle than a hunter walking through the field. Minimizing disturbances also includes simply hunting smart. Mature bucks are rarely tolerant of hunting pressure. This is particularly true early in the season. During this period food sources are commonly abundant. When safer alternatives are available, the incentive for a buck to subject itself to danger is minimal.
It therefore becomes important to employ sound-hunting tactics. It can be hard to stay away from a stand you know covers a mature buck's trail. However, playing the wind and refraining from over-hunting stands is well worth it. The alternative is driving the buck from the area.
Early season can be a great time to fill a buck tag. Keying in on food and water is a great way to do it. After sighting a mature buck and determining his trail, it really comes down to keeping disturbances low and a bit of luck. The funny thing about most lucky hunters is that they do what they can to make their own luck. Following these guidelines may just help you become a luckier hunter and fill out early as well.
Archived by
ARCHERYTALK.COM
all rights reserved