Published by archerchick on 05 Dec 2011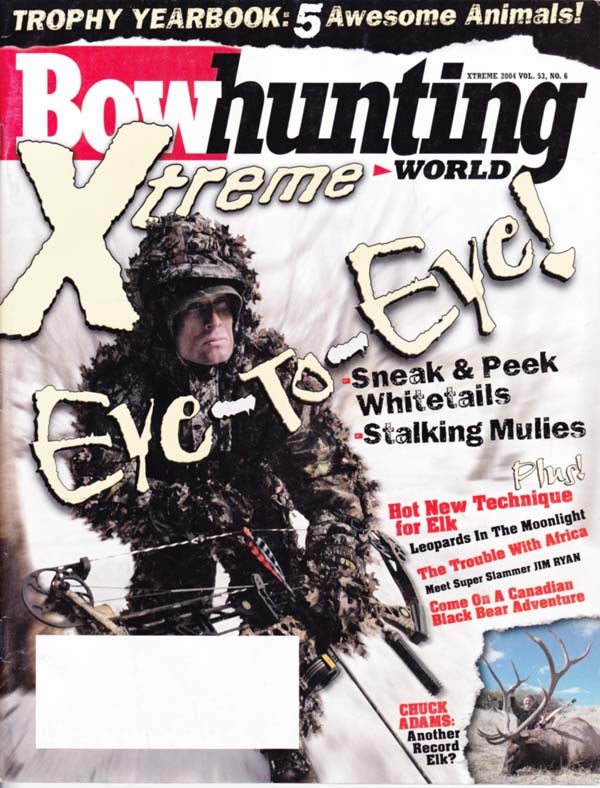 BOWHUNTING WORLD Xtreme
2004 volume 53, no.6
Lovin', Fightin, Elk ~ By Ralph Ramos
With today's call-shy bulls and early
archery season hunting pressure,
bowhunters need hard-core team efforts to produce trophy public land
bulls. These team efforts may include a combination of modern elk cow
calls, decoys, and resonating bugle tubes. But creatively putting them to
use with rattling is what works best! During my 15 years of experience
guiding elk hunters in New Mexico with San Francisco River Outfitters, I've
been blessed in harvesting over 120 bull kills in team efforts afield. In the
past seven elk seasons, l have employed my creative elk-calling techniques for others. And they work. My client hunters have multiple opportunities at shooting bulls on an average three-day hunt. Because of creative
calling, out of ll hunters, we average killing nine bulls in any dry or wet
season. Dur average kill ratio is one bull harvest for every two days of hunting.
I witness at least one live elk fight every two sea-
sons. But none stand out as my very first elk
brawl. I remember distinct evening bugles, popping back and forth at each other, as these hulls
walked downhill off the same ridge and headed
toward a marshy meadow. Suddenly I heard a
cracking, popping, loud noise throughout the canyon.
It sounded like many baseball bats banging against each other
at full swing, coupled with muffled moaning and furious breathing.
Two massive bulls fought with their heads down, locking
horns, pushing, shoving, swinging heads and antlers at each other.
Upon witnessing this and subsequent elk fights, l began to
notice that, as we walked out of the battle zone, we would continue
seeing and hearing multiple bull elk in the area after the
real fight ended. Perhaps these area bulls came in hoping to
see a fight, but the brawl was over.
This type of elk fighting and rattling reminded me of high
school students running towards a fray, hollering, "Fight,
fight!" in the school yard when a dispute occurs. Naturally,
these young bull-students like to see the sparring between two
warriors in battle. This intrigued me to try simulating a rattling battle in areas where bulls are bugling.

Rattling & Cow Talk In Action
Arizona elk enthusiast Ron "The Rattler" Way strongly
believes in rattling. He carries a large set of 6×6 antler sheds,
rattling in several bulls per season. Because it is so uncommon
to draw an elk tag in Arizona, Ron practices his method by
going out on friends' hunts, rattling and refining his technique
for when he draws a permit.


The first time I saw Ron and his rattling technique, he helped
me produce a 340 class Pope & Young 6×6 bull. It took just 45
minutes.l even passed up three opportunities at young bulls, holding out for a herd bull as the elk approached the rattling noise.
First, Ron told our calling party what to do when the rattling
began. "The bulls will start bugling, walking toward the direction of my rattling," he stated. "Select a bugling bull that interests you and move in towards the bull. Be aggressive. Don't expect
bulls to come in all the way into my rattling; you need to stalk
the live bugles. Normally, bulls will come in from all directions
and hang up around 50 yards from my rattling. Get the wind right
and move on in. The key is to try to intercept a bull as he
approaches the battle. If you don't like the bull you see, don't
stop hunting. Approach another bull's bugle, and keep working the area for more action. Remember, be aggressive!"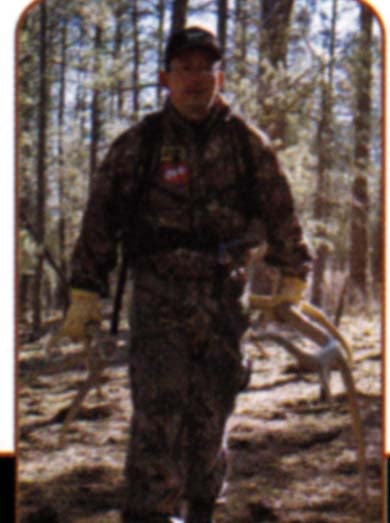 As soon as Ron began to rattle, we heard at least 10 bulls
in the area start bugling toward the ruckus. Amazed, l quickly stalked into the closest bugle for a setup. After the first elk
walked by heading toward the rattling noise at 20 yards, I quickly had my two callers, Joe Sellars and Jerome Sanchez, produce
lovesick excessive cow mews. Because elk are both lovers and
fighters, I knew we were onto a new technique, simulating what
naturally happens in the elk world. Give elk a loud battling
brawl and sweet cow talk, and you'll get immediate results!
As Ron continued to rattle, bang and clash those huge 6×6
antlers, l continued to move in, jogging to the next closest
bugle. Jerome and Joe followed, trailing me about 30 yards.
They cow talked in multiple tones, as if they were my satellite cows. Mimicked cow talk, battling bulls brawling, and live
screaming bulls filled the surrounding area.
The next bull we called in during the rattling session seemed
to prefer cow talk over the battle. He approached Ron's rattling,
but changed his mind as if he were advantage of an opportunity to steal the ladies, who belonged to a fighting bull.
At this point we had moved about 300 yards from Ron's
rattling, still hearing his antlers clattering clearly. The young
6×6 bull came within 20 yards, stopped and stared past me as


another bull snuck in between Joe and Jerome. I decided not
to shoot at this particular bull, as he only allowed a front-end,
quartering-toward»me angle shot. I passed up this unethical shot
and quickly moved in on another bugle. Morning bugles continued
all around us. Meanwhile, 20 minutes into the setup, Ron
continued rattling — what energy and endurance his arms had!
Finally, as I approached another bugle, I spotted cow elk mov»
ing toward my right into the cedar trees. I quickly figured by the
bugle's location that it could be my herd bull following behind
them. Instantly, I closed in, jogging toward the bull as he
walked through a cluster of trees. For a moment his cows separated
from him to my right.I kneeled down — steady, at full draw
with my PSE bow — selecting a possible shooting lane as a 340
class bull approached, bugling from my left side.
]oe and ]erome continued producing excessive cow talk a good
80 yards behind me while the canyon clattered with echoes from
Ron's rattling. My top sight pin steadily settled behind the herd
bull`s shoulder as he not only walked in, but stopped between
brush and two cedar trees in the only available shooting lane.
I don't even remember squeezing my Scott Little Goose trigger as I released my shot. The Carbon Force arrow, tipped with
a Rocky Mountain Ti»l00 broadhead, plunged forward through
both lungs, leaving a remarkable blood trail to follow for a quick
recovery. As we posed with my trophy 45 minutes into the hunt,
bulls continued to bugle at a distance. What a wonderful
bowhunting experience!
Rattling & Calling How To's
Find Your Battling Antlers
My preferred antlers for rattling
includes at least one large 320 class
6×6 shed as a base antler and a broken antler
— minimum of three points from the bottom
antler base or spur — as the second shed. This
broken antler allows you to swing with more
force, clashing both sheds together furiously
to create a faster, more aggressive rhythm,
Furthermore, less weight on the broken antler
shed means less fatigue on your arms and upper body during a rattling session, helping you produce a true battling noise.
Elk antler sheds may be purchased from antler furniture
shops. However, many elk hunting enthusiasts prefer to indulge _
in a favorite pastime and look for shed antlers in the field. People comb the woods as early as February. They're more likely to
find world class bull sheds during this early shed season when
the larger bulls loose their antlers before younger satellite bulls.
Because the impact from jumping a fence often causes elk to drop
their antlers, I like to get out and walk fence lines. Antler shed
hunting not only allows people to be outdoors, but offers the
chance for some valuable scouting and exercise for a new year
of hunting. Remember, sheds may be found anywhere, even while
you're hunting, so keep your eyes open.

Scouting, Season
Considerations
Rattling requires some pre season scouting to determine where
bulls are hanging out (as Ron did during previous hunting seasons). Our rattling
and calling technique is successful during early season archery hunting when bugling is slow, but Ron
found that it works better when the bugling picks up during
the later part of archery season. Multiple bull bugles are easier to locate.
assisting hunters as where to set up for a rattling
session. He would rather set up in an area where he can
already hear two bulls bugling rather than none at all.
Entice With Rattling
Once you have located bugling bulls, set up down»
wind to begin your rattling session. Try to set up
above or level with the elk bugling when you start to rattle.
Elk tend to hang up. They don't come in as easily if you call
them downhill. First, bang the antlers abruptly and aggressively
against each other. Clash your antlers together six to seven
times, creating a continuous loud, thundering, popping bang.
Let all bulls in the area know that a fight has just begun. When
it comes to drawing their attention, the louder, the better!
Continue clashing, rubbing, and creating clatter for IO to
15 minutes. Once you have started a rhythm for a fight;
bang the antlers two or three times loudly with greater force,
just like the loud, thundering bangs you created at the beginning of your session. This needs to happen at least every three
minutes. Real bulls tend to back off from one another and
approach each other for a second, then a third round, creating
loud antler popping banging sounds.
Be patient, hang in there and rattle for 30 to 40 minutes.
Remember you are trying to simulate a loud aggressive elk fight.
It at all possible, get a friend to call as you rattle. Focus on
vocal calling with bugles and cow calls to add flavor to your
simulated elk fight. I like to imitate bugles and groans with a
resonating tube such as the Primos Terminator bugle. If a caller
is not available, carry a bugle tube to produce these groans and
bugles yourself during the middle of the rattling session.
Rattling takes a physical toll on your upper body; upper~body
strength and endurance are musts. If an additional caller is avail»
able you might even switch roles from caller to rattler and vice
versa. The important thing is don't give up. Whether rattling
or making vocal elk calls, keep up the noise to keep bulls
interested. Bulls normally bugle as they approach giving up their location, but
silent bulls sometime come in, so don't let your guard down.
Enhance With Cow Calling
Most importantly, the
hunter taking the shot should have an
additional caller producing cow talk
behind him as he moves in toward elk that are approaching the rattling fight. This caller should follow the shooter, staying a minimum of 20 yards behind. The
cow talk will help entice a bull to walk by the shooter, giving the shooter a good shot.
Even with a supporting calling and rattling party the shoot»
er should have a diaphragm mouth call ready at all times and call
while moving in toward the bugling bull. Another reason to have
a mouth call ready is to stop a bull. As he walks by toward the
rattling light, a sweet cow chirp may stop him for a better shot.
Once your rattler has begun rattling and live hulls are walking toward the battle, begin your calling, producing lovely
tones of a female elk. Mimicking multiple cows and calves
with excessive cow talk works extremely well during the rut. Use
different elk calls simultaneously non~stop as bugling bulls
approach. Once you start the excessive bursts of cow talk,
don't stop until the bull comes in running past the shooter.
I like to place all my elk calls in front of me when calling to
keep them within a hands reach. l imitate varied tones of cow talk,
starting with diaphragm cow calling, then shuffling the open
end of a bugle tube in and out in front of my mouth rapidly. This
"shuffle" of volume produces the "near and far sounds" of mingling
cows in a herd. Next, swap to an open reed call, using it without
a bugle tube. Try to vocalize one cow in heat by producing a loud
hyper heat call once every three to four minutes. The greater your
variance of cow sounds, the better your chance of calling in a bull.
These types of sounds are best created with Primos elk calls such
as a sound plate diaphragm, single and double reed calls, and — the
most user friendly — a "Hoochie Mamma" push and squeeze call.
Elk hunting is an ongoing mental and physical challenge. There is no question that elk have become more
educated game animals. To remain effective, hunters need
to make changes. This is why l strongly believe in creative methods outlined in this article. Don't forget to combine these methods with in depth scouting, physical
conditioning and conducting year round homework —
they are essential. No matter what, mere is nothing
that is more enjoyable than the rush of calling in a
bugling bull elk!
the Author
Ralph Ramos is a prostaff member for Primos Hunting Calls, PSE
Archery Products, Rocky Mountain Broadheads, Scott Releases, and
Montana Decoys. A New Mexico native and guide for San Francisco
River Outfitters (www.gilanetcom/sfroutfittersl, he guides elk hunters
in the "Land of Enchantment? He presents elk calling seminars
throughout the Southwest, educating hunters on creative calling
and rattling techniques as well as his x—zone method. Ralph also
owns Ramos Hunts & Video where he produces hunting videos. To
book an elk-calling seminar, purchase his hunting videos, or just get
simple advice about elk hunting, contact Ralph at (505) 526-4514 or
email him at [email protected]
Archived By
www.Archerytalk.com
All Rights Reserved