Published by archerchick on 13 Apr 2012
Erv Plotz Hard to Keep this Bowhunter Down on The Farm by Jay Strangis
Bowhunting World April 1990
Erv Plotz says he's had his hunts and he's settling down. No more playing tag with grizzly bears. No more chasing ghosts in the desert. No more freezing toes with Eskimos or fistfights in frontier lodges. No. Erv Plotz is fifty years old and he's giving up the wild life. And why not? Not every world-class bow-hunter is able to retire to the peace of a Minnesota farm when he's given up the chase. Just because that farm is home — always has been. It`s where he plans to live quietly the rest of his days, he says. And if anyone believes that, they also must believe muskox can fly.
An unlikely combination of farmer-trophy hunter, Plotz  has bowhunted on two continents, taken countless big game animals, placed nine trophies in the Pope and Young record book and notched several bow hunting firsts. People like Erv Plotz don't just fade away. Try as he might to act reserved, the man still has  an uncontrolled "let's go hunting"  look in his eye. A gleam that he's no doubt carried throughout his 36 years as a bow-hunter, and one that's not likely to dim. He probably displayed that gleam at age 14, while making his first bow.
Denied any use of guns, the farm boy decided he'd do like Native American Indians. The lemonwood limbs he fashioned were crude, as were the arrows he carved from dowels, with chicken feathers for fletching. But by the time he reached ninth grade, he had bow-killed his first deer. The man with a passion for bow-hunting and adventure has bow-killed 46 whitetails since.
Throughout Plotz' life, others have seemed to identify his adventurous spirit, and the connection has resulted in some memorable experiences. When he joined the military in the l950s, he was sent to Europe. Of course, his bow accompanied him and his target shooting time actually increased. Plotz shot every day, and the longbow became a trademark of the young man. Native Europeans witnessing his skill and hearing of his passion for hunting, couldn't resist inviting him into the field.
One such invitation came in France, where Plotz earned honors as the first modern bowhunter in Europe to kill a wild boar. He also arrowed a roe deer. Good fortune never has been in short supply for Plotz. An Austrian man whose family survived on American
C-rations during World War II met Plotz and his commanding sergeant, insisting that he take the two on a chamois hunt as a token of his gratitude. They accepted, and Plotz took a 13-year-old chamois ram in a hunt amidst the Austrian peaks. Today such a hunt is comparable to that for North America's desert bighorn sheep, accessible only to the very lucky, or the very rich.
License To Brag
At home in the sleepy town of Clements, Minnesota, Erv Plotz sits at a dining room table, and directs his eyes past the buildings that house his hogs, across the sweeping soy-bean fields that line the horizon. He grew up in that direction, just two miles away, and like an old buck, he`s spent his life in the same territory, with an occasional foray beyond. Behind Plotz, on the other side of the farmyard, is a grassy area he uses to practice archery. He's fired many arrows over that ground, most with a bare bow, the way his childhood idol, Howard Hill, had.
Only in the last two years has he shot with a compound bow. As a matter of fact, of the 14 bow-killed animals in Plotz' trophy room, only his pronghorn antelope was taken using sights. Plotz still likes to handle the bow he used for many years, a 102—pound longbow made for him by Martin Archery. He's also shot recurve and longbows by Bear Archery and Paul Bunyan Archery, but the Martin bow is a part of Plotz' most memorable adventures. In fact, the bow itself, combined with Plotz' ego, earned hunts in some very strange ways. On a hunt for stone sheep in British Columbia, Plotz first turned the bow to his advantage, even though his sheep hunt was a rifle kill.
Outfitter Frank Cook, Plotz` host and one of the most notable guides of the region. took a look at the longbow Plotz carried with him and scoffed at its 102-pound draw weight and slender design. Cook called the bow "a stick" and offered to wager that his son who would arrive in a few days could break the bow. Never one to avoid a good argument. Plotz accepted, but changed the terms of the wager. All Cook's son had to do was pull the bow to win. At stake was the cost of a moose hunt. Plotz shot his stone sheep on the eighth day of the hunt. He was elated, but that soon turned to a case of nerves after Cook`s son arrived. The boy weighed more than 250 pounds and was as strong as an ox. The moment of truth had arrived. The bow looked like a toothpick in the hands of the overgrown youth. But as he prepared to draw he made one mistake. Instead of raising his elbow to draw the bow, he held the joint against his body and tried to draw from the hip, without raising the bow at all.
After the second attempt Plotz said he knew the moose hunt was his. The boy tired so much in the first two tries there was no way he would succeed if he pulled all day. Only a few years later, another run-in with a critic of Plotz' bow would lead to a hunt for a trophy mountain lion. The "doubting Thomas" this time turned out to be a Canadian government cat hunter from the Kettle River area of British Columbia. Plotz met the man in a bar and had to listen to him cast insults at the bow's ability to still a lion. Plotz argued with the man and invited him to "bring on the cat."
The next day Plotz found himself waist deep in snow following a bunch of rough and ready cat hounds. He reached the treed lion first, but as agreed, had to wait for the government hunter and his pals to arrive to witness the shot. The cougar turned out to be the largest cat taken in Canada up to that time, scoring 14 11/16 P&Y points, weighing 147 pounds and measuring 92.5 inches from nose to tail.
Getting Physical
Plotz and his wife, Donna, have five children. Erv Plotz is especially proud of his sons. He says the boys are tough, and it`s obvious that's important to him. Erv Plotz is a pretty tough customer him-self. At 50, he's in better shape than many people half his age. Hard work has kept him that way. When the farm economy slumped. Plotz started a part-time hardwood logging business, a job which nearly cost him his life last year.
Felling huge ash trees in a boggy area with one of his sons, Plotz was struck by a misguided tree. The trunk pinned his leg against the ground, breaking it, and as the angered logger thrashed to pull himself free, he broke his arm against another tree.
One might say Erv Plotz is the physical sort. He also makes friends in strange ways. In a lodge at God's Lake, Northwest Territories. Plotz happened to mix words with a stranger, another U.S. citizen. The two finished their debate with fisticuffs, but parted company  peacefully. So much so that months later Plotz got a call from another man inviting him on a Canadian fishing trip, and eventually their friendship led them to plan an Alaskan sheep hunt.
Plotz response:    " When you go hunting you really meet super guys. I think hunters are a very elite group, the best people, especially bowhunters."
Bringing 'em Back
Erv and Donna Plotz' traditional attractive farmhouse looks like many other Mid-western country homes – until one gets inside. Past the friendly kitchen and through a warm dining room a menagerie of critters wait to greet the visitor. More than a trophy room, the Plotz' living room resembles a natural history museum.
A full mounted grizzly bear guards the door to the patio, closely attended bythe full mount of Plotz' British Columbia lion. On other walls, whitetail, caribou, pronghorn, mountain goat and sheep heads keep watch, while a full-mounted desert bighorn sheep perches on a corner rockpile, replete with a barrell cactus.
Perhaps the strangest creature of all, and certainlythe only one ever to grace the town of Clements, dominates the room: A full-mounted muskox. The muskox holds special significance for Plotz.
It is , he says, the first muskox ever killed by a white man in the Northwest Territories of Canada. It also ranked second in the world, at one time, among Pope and Young records. Plotz got a tip about the special muskox hunt from Jack Atcheson, a taxidermist in Butte Montana.
In February 1980, Plotz found himself accompanied by three rifle hunters who also held permits, two game wardens and seven Eskimos on a wild trip across the frozen tundra on 12-foot wooden sleds pulled by snow-mobile, with only snow drifts to guide them. The natives don't use compasses, Plotz notes, finding their way by observing the prevailing winds' imprint on the drifts.
That night, among a village of Eskimos, Plotz` and his bow attracted considerable atention. The natives were fascinated by the idea of a man who might kill a muskox with an arrow. The flattery couldn't stem P1otz' worries. He wasn`t sure what would happen when he loaded-up the 102-pound bow at 38 degrees below zero. The next day he got his answer.
Travelling with a native guide, Plotz and the man spotted a dark figure alone on the sea of white. Muskox! They circled for an upwind stalk after identifying the animal as what looked to be a large. bedded bull. They got within yards of the beast and the guide told Plotz to shoot as soon as the animal gained its feet. But at a temperature of almost 40 below, even the guides hollering couldn't bring the animal from its bed.
When it finally arose, Plotz killed the 103 2/8 trophy. Only one other hunter succeeded in killing a muskox on that hunt, that with a rifle. Plotz` ever-changing luck took a sudden turn when he developed food poisoning from the native cuisine. He left camp only to be detained later by customs officials at Edmonton. Alberta, who confiscated his trophy and gear. Seems they hadn't heard a rare muskox hunt had been established. It took Plotz more  than a day to resolve the situation.
Versatile Hunter
Erv Plotz loves to bowhunt. But over the years he's also developed skills as a rifle hunter. One of the accomplishments that brings him the most pride is the completion of a Grand Slam for sheep in just three and one-half years. To complete the Grand Slam, Plotz needed 1 desert bighorn. In a wild piece of luck, he was one of six hunters drawn to hunt the trophy   animals in Arizona, and he hoped that his fourth sheep species would be the first he would take with a bow.
Plotz prepared for the hunt for four months, running over 12 miles each day on the dusty roads surrounding Clements, contacting  any  person who might help narrow down locations for a trophy desert bighorn,   practicing with his bow. By the time the December hunt came along, he was ready. Plotz learned that an Arizona game warden knew the general location of a ram with world record potential.
The warden had photographed the sheep in the Mount Wilson area. Upon seeing the photo, Plotz became obsessed. Interested in the novelty of bowhunting desert sheep, a crowd organized to assist Plotz in his pursuit. The game warden with the photograph took two weeks vacation to attend the hunt. The president of the Bighom Sheep Society would serve as guide and a flock of outfitters would come along to assist.
It was a big sheep camp to chase just one ram, but this was big territory. According to the game warden, the 2,000 square miles they could hunt held just 12 legal rams. The party never did find the once-photo- graphed monster sheep, but did manage to locate a very large ram which Plotz, bow in hand, stalked unsuccessfully four times before the animal finally left the territory.
Days later, when they finally spotted another good ram, Plotz knew the time had come to put away the bow and take out the rifle. His companions were furious. They had come all this way to see the sheep bow-killed. Plotz resisted the pressure. His permit allowed him to take the ram with a rifle, and he was through risking a rare Grand Slam just to appease his ego and the egos of his companions. He might never have this chance again if he lived 10 lifetimes. The next day, he carried the entire sheep, gutted, out on his back — Erv Plotz style.
Wh0's Stalking Whom
The moose hunt Erv Plotz won years earlier never did produce an animal for him. A world-record class bull had been spotted, but between tangled country and overly aggressive young guides, Plotz' yearning for a record book moose continued to be only that, a yearning. Seventeen days of brush-battling scratches and frozen toes sent him home only hungrier.
He returned to the northwest several years later. this time Alaska. with hopes of hanging that moose and a grizzly bear. Bowhunting the Christmas Creek area near Nome, Plotz sighted many grizzlies, and one morning saw a path to a stalk. The bear was out in the muskeg, a spongy area where travel was slow, but the low brush offered a chance for an open shot. After sneaking within range, he let go an arrow that zipped low, parting the belly hairs of the giant bruin. Startled, the bear began looking for its adversary, advancing in a slow, circling stalk of its own.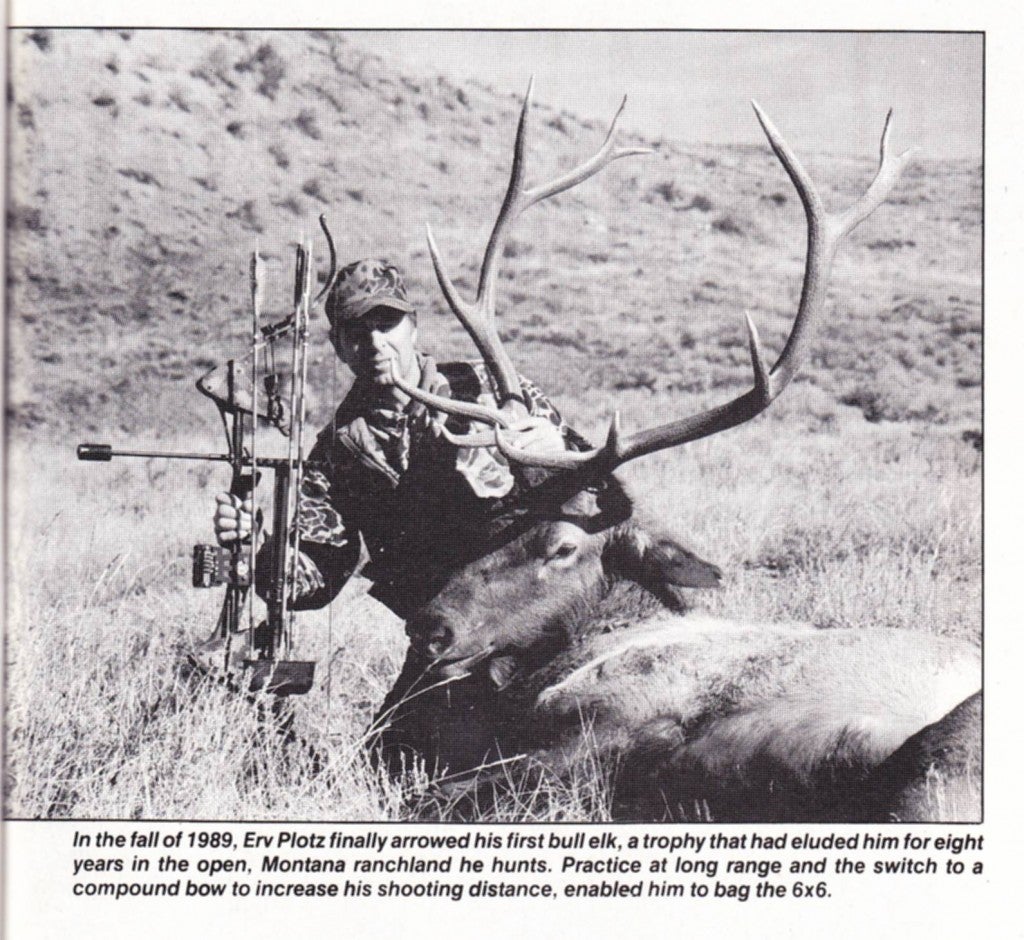 Plotz was unnerved. He managed to escape, but vowed not to put himself in such a spot again. Several days later he bagged a grizzly with his rifle. In the same camp, several hunters returned one day to report seeing a large bull moose on a small lake a short plane flight away. Plotz and the bush pilot took off immediately, knowing if they could spot the animal and land, they would have to sit out the r quired waiting period before legally pursuing the bull. Wind and bad weather greeted them as they reached the lake and spotted the bull. The pilot refused to land under the conditions. With no way to estimate the direction of mountain wind currents on the way down, an attempted landing could prove fatal.
Plotz would likely have jumped from the plane if he hadn't had another idea. Snatching an arrow from his quiver, he tied a long ribbon to the fletching and dropped it over a gravel slide. The arrow planted itself firmly in the escarpment and the ribbon tailed away with the wind. With their windsock in place, the two put down safely on the lake. Plotz arrowed the bull, a 182 2/8 trophy, the next day, but the weather worsened and for three more days the hunter and pilot remained trapped with the moose carcass under the Alaskan fog.
Closer To Home
In addition to his adventures shooting three P&Y caribou and a P&Y pronghorn antelope with his bow, Erv Plotz takes great pride in the hunting he grew up with near home. Redwood County, Minnesota, is whitetail deer country — farmland, that holds more crop than anything else —where fence-lines mean cover and tiny sloughs hold giant bucks. Several miles away is the lush, forested Minnesota River valley. But Plotz says the bucks prefer the sparse upland habitat most of the year. He might know. Plotz' many whitetail bow-kills include three P&Y qualifying bucks, with the best two of the three listed in the record book. Vacant groves, creeks and other islands of habitat hold the biggest deer in Redwood County, by Plotz' estimation. The bucks may like to visit the vast river bottoms on occa- sion, but they don't like to stay there, he says. He prefers to stalk the deer when he can, or take a ground blind where line fences meet small sloughs.
Last year he spotted what he called a "super buck," but was unable to bowhunt following his logging accident. The gleam returns to the wild man 's eye — he 's checked with every meat locker in the county — the buck wasn't taken before the season came to a close.
Always Something More
Cutting through the reserved exterior of the new Erv Plotz isn't difficult, just mention elk or carp, two critters that light him up like a firecracker. For seven years Plotz has been chasing bull elk on an acquaintance's 10,000-acre spread in Montana, and for seven years he has failed to score. Of course, he doesn't want to just kill any elk any way. He wants a six by six or better, and he's going to kill it with a bow.
He's already practicing with one of his sons for the fall trip, and advising the boy that if he can't hit the vitals at 60 yards, don't bother coming to hunt. The area Plotz hunts is wide open country, with lots of bulls and very little cover.
Plotz now shoots an Oneida Screaming Eagle compound, something he picked up a couple of years ago, the same time he first began using sights. He says it just seemed like the time to start catching up with the advantages most other bowhunters enjoyed in speed and range. The feeling is enforced by his experiences watch- ing bull elk on the outside of his bow range.
Elk and a funny looking fish have little in common, except to Plotz. He`s been bowfishing carp for years in the springtime, and gets that crazy look when the subject arises. He wants a big carp as much as that big bull elk. As a matter of fact, he's planning to shoot a new state record carp to add to the 40 and 42- pound fish he's already harvested, and he says he knows where the big carp lives.
Seated at his dining room table under a mounted 40 pound carp, Plotz seems almost relaxed as he summarizes his career. "The farming hasn't been as good as the hunting," he quips. And he speaks of his 50 years as if it's a lifetime come to an end —all the good luck and bad luck, close calls and the many people he's met over the years. Suddenly, he perks up. Seems there's this giant muskie waiting for him up at Lake of the Woods, Ontario, and he's just got to get up there as soon as possible and catch that fish. The gleam is back.
Archived By
www.Archerytalk.com
All Rights Reserved