Published by archerchick on 22 Feb 2010
One-Day Gobbler – By Joe Bell
Bowhunting turkeys is no gimme, yet with the right tactics and a drive to succeed, luck will eventually shine through.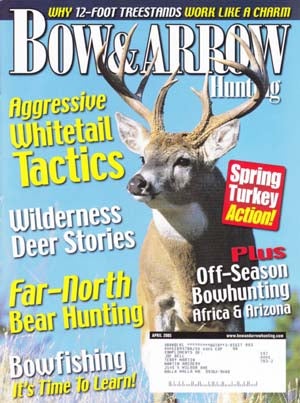 We strolled across the darkened field as dawn's orange-red plume was rising above the horizon. Double Bull specialist Tom Carroll pulled a crow call from his pocket and blasted through the pre-dawn silence to rile up any nearby gobblers. Immediately a tom fired back, giving us his approximate location. Tom and his good hunting buddy Jeff Zimmerman, who designs game calls, are experts at this trade. Me, I'm more of of a western big-game fanatic, so I just watched and admired these guys who have such intense enthusiasm for bowhunting long beards.
We set up in a meadow of trees, a natural strutting site for big gobblers, according to Tom. Quickly we popped up the Double Bull T-5 Pro Staff blinds. Tom and I would be in one while Jeff would set up 50 or so yards to our side-just in case the birds did something unorthodox. The Flambeau decoys were in place 15 yards from the shooting window, and I was on ready with my bow clutched in my hand.
Minutes went by, the sound of his gobbles telling us he was on the ground now. The hunt was on. Soon the sound grew louder as he closed in on us. Tom and Jeff worked in tandem, reverbating clucks, purrs and yelps with such precision and smoothness.
He was close now, and I got the feeling that the shot would come fast. I was running on one maybe two hours of sleep thanks to a full day's worth of airports and plane delays. By the time tom and Jeff picked me up it was late into the evening. Then we drove for a couple of hours, grabbed a snack and hit the bunks. Tom informed me that we were looking at a two-hour drive or so to reach the hunting area so this meant little sleep.
About the time the excitement began, so did the confusion. Oh, the tom got close but decided to pass us by. By the sounds, there were too many hens in his entourage to get excited about one more.
As we assembled blinds and decoys, I couldn't help but admire this Kansas prairie land. It was my first time hunting in the Land of Oz, and I was digging it.The country was very open, with strips of trees and scrub brush laced along waterways. As a big-bodied buck sprung from his bed (with heavy bases and tines), bounding down the ripples in the tall grass, I felt a twinge of romance for the country. I will definitely return to hunt giant bucks here.
Our Tactics
We were hunting Rio Grande birds on 15,000-plus acres of land so we had plenty of options. When it comes to avoiding human calling attempts, eastern gobblers could be the toughest to trick, But in my experience, a wise, old Rio Grande turkey is no slouch in this department. They can go call-shy at the flick of a switch. And that's what these birds did to us. This meant improvising.
Throughout the bulk of the day, we made typical setups with blinds and decoys and calling, but birds didn't seem to move our way. We continued to cover ground furiously, looking for that one lonely gobbler. We never found him, but we did spot a big gobbler walking in an alfalfa field, along with a horde of hens.
Our window of opportunity was to dash a 1/2-mile or so to the edge of the field, slither our way down a cut that would hide our approach, then wet up in their travel path. (Hey, this is my kind of hunting- spot and stalk.) Tom And I were staking in the decoys when we got busted. Really, we probably didn't need the decoys on this setup, which made it that much more frustrating. Tom expertly handled the blind, erecting it ever so slowly.
Tom gave his best calling renditions, piquing the birds' curiosity. A couple of hens, along with the gobbler began a slow approach, but something was obviously wrong, I'm sure they thought. We watched them return to the field, and after hours of sitting in the blind intermittently, we watched as they slowly filed around the blind – 60 yards past.
I was about to think these birds weren't killable, bur Tom's success the day before proved that wasn't true. Tom and Jeff were out testing the water, so to speak, before I arrived. The winds were gusting, yet Jeff and Tom coaxed two birds off the roost and within 15 yards of the blind. After a few soft purrs, the bird came a-runnin'. A shot from Tom's bow sent an arrow perfectly through one of the bird's chests. He captured it all on video.
What I Learned
I'm not a very experienced turkey hunter, but I'm learning quickly just what it takes to consistently bag longbeards with a bow. I know first-hand that you need calling expertise, call-shy birds or not. If you don't know how to verbally entice a tom, he'll go somewhere else. You must know what to announce and when to announce it. How do you learn? You follow experts around, and then learn by trial and error on your own, calling a lot and making mistakes.
Also, the turkey hunting I know doesn't incorporate morning and evening setups only. If you want a bird badly, then you'll need to stay out all day. Further, a good turkey hunter adapts to changing conditions. This means doing whatever it takes to get your bird. Thin of off-the-wall ideas, and you'll make it as a turkey hunter. This could mean stalking birds, ambushing them along fields or getting more aggressive with your calling.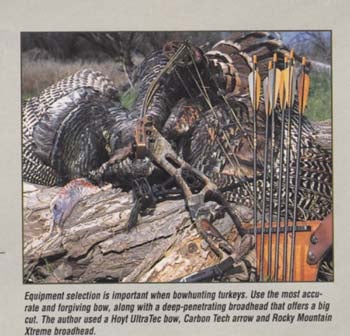 Near Day's End
With little sleep, water or food, the day was turning long. I had a couple of energy bars in my pack, and Tom shared his Kudos bars and dried fruit. By the time evening rolled around, I was becoming dreary eyed. The plan was to go back to a roost area- a possible hen pickup area for gobblers. It was about 5 p.m. when our setup was complete. Tom and Jeff fired up their Bad Buzzard slate calls- a design made personally by Jeff- and instantly the show was on.
We had two gobblers coming at full throttle. The video camera was rolling and the adrenaline was flowing. The longbeards came at us in a zig-zag pattern. Suddenly they were 30 yards away and closing. I wanted to shoot the lead bird, but he passed my shooting window like lightning. I slapped the gap pins on the rear bird and took the shot as he slowly walked by.
He jumped, swayed and stumbled until he came to rest 100 yards away. A finishing arrow put him down for good. It's kind of bizarre how only one day of turkey hunting could bring about so much. Maybe that's the nature of the beast, the nature of bowhunting turkeys.
Archived by
ARCHERYTALK.COM
all rights reserved