Published by admin on 07 Oct 2010
The Aspirinbuster visits Ted Nugent's Camp for Kids by Frank Addington, jr.
"Hanging out with Theo…"
When Dick Mauch, Bruce Cull, and Ted Nugent want you to do a gig, you do it. I was already coming to Ponca, Nebraska the weekend of September 18, 2010 anyway when Dick asked for my show schedule at Ponca. He was communicating with Bruce and made arrangements for us to leave Ponca in time Saturday afternoon to drive to Yankton, South Dakota for the Ted Nugent Camp for Kids event Ted was hosting that day.
The NFAA headquarters was the location for the event and the Eastons have supported this endeavor with the "Easton Sports Development Foundation Center for Archery Excellence". Bruce Call and his staff run a first class operation. It's a beautiful facility that easily handled the huge crowd of young people and their parents. I heard somewhere they had around 450 kids at this event. We got there as the closing ceremonies started and Bruce Cull was on stage. I was told we had a few minutes to set up. We were back stage and I quickly began putting together and tuning my Hoyt Formula RX recurve bow and getting my gear unpacked when I heard, "What's up Aspirinbuster" and looked up to see my pal Theo standing there. He hugged Dick and Carol Mauch and the I went over to greet Ted. When Ted hugs you you can feel the energy and enthusiasm he has for life and those around him. We visited and then he left to go on stage and give the closing remarks. As usual he gave a teditorial talk and hit on major points about being drug free, living the good life, and hunting and freedom. I saw Greg Easton on the podium and a few other dignitaries.
Bruce had a net already in place so all I had to do was add my Hoyt banner and quickly get some balloons blown up, and find out who they were having toss targets for me. A volunteer stepped forward and we quickly reviewed what would go on. I heard Ted tell the audience something about a "mesmerizing" archery exhibition and I grinned. Only Ted Nugent could give an intro like that. Ted was presented with a custom built gun and then it was time for Bruce Cull to give my show intro. Ted had someone film my shooting and it should be on his show sometime down the road. I ignored the camera and went to work.
It was showtime! The audience gathered around my net and as kids held up cell phones to video and take photos of the show I did what I do. It was a great time and after the baby aspirin shot I invited the audience by a table to get an autographed photo. I ended up signing more than a few hundred photos that evening. Greg Easton had to leave early so I did not get to visit with him.
After the show, we said Adios to Bruce Cull and Ted Nugent and headed to the Black Steer for a fine dinner. Dick and Carol are fine supper companions. Then we made the hour long drive back to Ponca for a party at Tom and Bonnie Ferry's home. That day I'd did set up the show at Ponca and did two shows, packed the gear and drove an hour or so to Yankton, set up again and did another show, and then packed the gear and drove back. By the time we were at the Ferry's home, I was exhausted but enjoyed seeing everyone and catching part of the Longhorn's football game on TV. Dick was still going strong! At his age (83) we should all his health and energy! He and Carol admired Tom's trophy mounts and shared hunting stories with everyone. It was a fine day.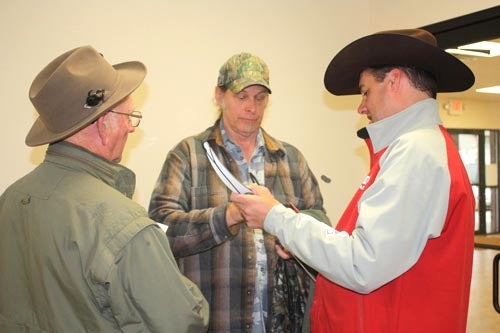 The Ted Nugent Camp for Kids was a huge success and the NFAA headquarters is a great place! If your travels take you near Yankton, please stop by and see the building. Have Bruce or his staff show you around, there are many vintage photos and other items of interest. It's a great facility and a real showplace. I think that many youngsters were introduced to the lifetime sport of archery that day by the staff, Ted, Greg Easton and myself! By the way, if your travels do take you to Yankton, try dinner at the Black Steer. Nothing beats Midwestern corn fed beef!
Until Next time, Adios and God Bless.
Shoot Straight,
Frank
To learn more about the NFAA, visit: http://www.nfaa-archery.org/
For info on all things Nugent, visit: http://www.tednugent.com/
For more info on Easton, visit: http://www.eastonarchery.com/