Published by archerchick on 11 Jan 2011
BOWHUNTING WORLD
October 2005
THE PERFECT MORNING STAND ~ By Mike Strandlund
?
On cool mornings during the rut, bedding areas may be your best bet.
If you hang around bowhunters enough, you'll eventually hear some-
one say they were in the right place at the right time. Everyone nods
their head. The notion of time intersecting location is a well accepted
principle of bowhunting success. Nodding your head is easy, but really,
putting those two together is no simple matter. There are a lot of
trees out there and a lot of hours in the day. Making it happen by
design rather than by pure luck takes a little thought.
Big bucks can be taken at any time during the season and any time
during the day. They are always somewhere, even it you aren't. If you
understand their behavior well enough to put yourself between their Point
A and Point B, you can manufacture your own right time and place. The
problem is, during most of the season they aren't moving very well,
during the day, and these smart old deer are anything but predictable.
Year after year the rut comes to the rescue to put a little life into our
dreams. For a high percentage of hunters, the rut is the "right time." But,
we deed to go a step farther. ?


In my experience, morning hunts produce more big buck sightings than
evening hunts. Hunters who spend a lot of time on stand will agree. Bucks
learn to let their guard down more in the morning and are on their feet
longer during daylight than they are in the afternoon. So, the "right time"
becomes a morning during the rut. But, why stop there? There's more
we can use to narrow this down.
Studies I've read suggest that daytime buck activity north of the
Mason-Dixon tine starts to decline when the temperature gets above 45
degrees. It almost comes to a stop when the temperature reaches 60
degrees. So now the right time is a cool morning during the rut. Now all
we need is the right place.

The Right Place
For 50 weeks out of the year, bedding
areas are among the worst places you
could hunt. Try sneaking into Fort Knox
sometime. It won't be long before the
alarms start sounding. That's the level of
security deer exhibit in a bedding area for
most of the year. If a buck catches you
sneaking around his bedding area, he's
gone. Just as a good burglar knows that
the best time to make a raid is when the
residents are out of town, we have our
own window of opportunity to hunt bedding
areas effectively during the rut.
During the two weeks that comprise
the peak-breeding phase of the rut, a high
percentage of the bucks are "out of town."
They're distracted from normal wariness by
the hope of cornering a doe, and they're moving
more in the process spending time in places
where they haven't taken a stick-by-stick and
leaf-by-leaf mental inventory.?
The one you see today may be miles away
tomorrow. You can afford to push a little
harder when the buck turnover rate is high.
When does are in estrus (characterizing
the peak breeding phase), mature bucks
spend most of their time looking for them.
Where do they go? Where would you go?
Feeding areas in the evening and bedding
areas in the morning.
Choosing the bedding areas you will
hunt depends a lot more on how you will get
in and out than on any other single factor.
Start with access, then move on to wind
control and finally worry about the specific
tree you'll hunt.
Access
Bucks are slow to arrive in bedding areas
in the morning, so they won't be the ones
that bust you if you make a sloppy approach.
Maybe you are thinking, "So what if I blow out
a couple of does?" It's a big mistake because
if you push the does out, the bucks will stop
using the whole area eventually, plus any
deer that remain will display tense body
language that will bring the bucks to a
greater state of caution. Soon they will
stop moving naturally through the area. If
you can't get to and from the stand without
spooking deer, you are actually hurting
your entire hunting area. That's why getting
in clean is so important.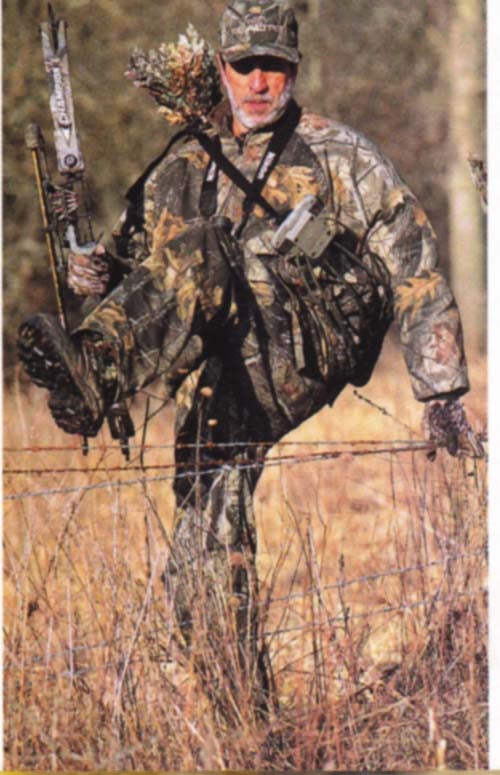 ?
Bedding areas generally have a back
door that makes access easy. You have to
approach from the opposite direction as
the deer. In other words, you have to come
in from the direction away from the primary
food source. Surprisingly, some bedding
area stands can be hunted day after day if
the entry and exit routes are well-selected.
The only way you burn out a stand is if the
deer know you are using it. Keep them in
the dark and the stand can be productive
for the entire two weeks.
Take advantage of every trick to keep
deer from seeing you, smelling you and
hearing you as you approach the stand.
I've learned the value of setting stands
close to high-banked ditches and creeks. I
use the bank for cover as I walk right down
in the bottom, beneath the surrounding
terrain. I've walked right past deer this
way many times.
?
Another trick is to approach your
morning stands right at first light. It may
sound like heresy to hard-core bowhunters,
but I've found that sleeping in actually
works to your benefit when the woods are
dry and noisy underfoot. Wait until you can
just see the ground before heading to the
stand, and then walk rapidly. Rapid-fire
movements spook deer less than quiet
sounds of stealth. Also, there is a time
right at daybreak when the forest comes
to life and the sounds you make aren't
singled out as easily.

?
Wind
The best bedding area stands
are located near ridge tops. Of course, you
have to go where the deer are, but given a
choice, hunt high where the wind is steady.
The wind is always steadier on high ground
than in areas that are protected and subject
to swirling. As a bonus, when you set up on
the downwind edge of a ridge top, the wind
will carry your scent above the deer down-
wind of your stand for a long distance. With
attention to eliminating odor, you should
be able to prevent most of the deer from
ever scenting you while on stand. If you're
looking for a way to make your best start
productive for longer, this is a big one.
Be Conservative
While scouting I've seen a lot of stands
that are "one-hunt wonders." I know
perfectly well what they look like because
I've put up my share of them over the years.
They are great for one hunt and then they go
downhill because too many deer scent you or run
across your ground scent. Generally, these
stands are the result of a combination of
greed and naivete. We long to be right in
the middle of the action, but that always
comes at a high cost. You will get busted
often – plain and simple. And, soon deer
will stop using the area around the stand.
There is no place I've ever hunted
where wild whitetails will tolerate human
presence without avoiding the area in the
future. Instead of hunting right in the Middle
of a bedding area and educating deer,
choose a tree on the fringe. Put your stand
on the backside of the tree, away from the
deer. You will have to stand facing the
tree most of the time, but the tree will
serve to keep you well-hidden even
from short range.
?


Accept the fact that you'll have to watch
a few deer pass out of range. Be patient;
eventually one will come to the downwind
side of the ridge (your side) and you'll get
a good shot. In the meantime, you will keep
the deer relaxed and moving naturally. Over
the long haul, that's the key to successful
bowhunting.
Picking The Tree
Choosing an actual stand location in a bedding
area can be as much luck as skill. There is almost
no buck sign to guide you. By their very
nature, bedding areas aren't travel routes.
You won't find many trails or traditional
funnels to suggest the best stand location
There isn't a single big rub, scrape or
trail visible from any of my best morning
stands. This is the hardest part for many
bowhunters to overcome. Too often, sign
becomes our only focus and we overlook
great stand locations as a result.
Buck movement patterns through bedding
areas seem on the surface to be
random. In most cases, the bucks follow
some kind of a pattern even if the pattern
is known only to them. In time, you will see
it start to develop. Certain places will seem to
be visited more often by bucks on the move,
or a certain tree will just seem to be common
to many of the paths taken by cruising bucks.
lt may take a couple of years for this to gel, but
you will end up with an awesome stand if you
are patient and watchful.
Occasionally you'll actually find funnels
in bedding areas, though they tend to
be broad and very general in form. When
hunting ridges l look for areas where narrow
hogbacks in the ridge force traveling
bucks to come closer together. This simply
increases your odds that a buck passing through
the area will be within range.
Often, in other types of bedding areas,
you'll find something subtle that pushes
deer toward one side or the other. It may
even be as simple as a big fallen tree
deer have to go around. Anything that
funnels movement (no matter how slightly)
tips the odds a little more your way and
is worth using to your advantage.


A saddle is another feature that really
improves ridge hunting success. Bucks
use the saddle to cross over the ridge
serving as a second travel route when hunting
bucks that are cruising along the ridge itself.
Remain Undetected
Does often browse for an hour or more
when they get back into a bedding area.
They rarely bed right down. This can be a
tough time because as the does mill around, a few
invariably start to drift over to your stand.
If the setup isn't perfect you will get busted.
I've also had entire family groups bed
down for hours at a time within 10 yards
of my tree. That makes life miserable
because you can't move to stretch or even
change positions. This is rare, however
because you can usually count on some
kind of buck to come along and run them
out before too long.
?
More Thoughts On Timing
When you start noticing bucks seriously
chasing does, it's time to start spending
your mornings hunting bedding areas
Here's what you can expect.
The bucks that visit doe bedding areas
aren't interested in bedding down, at least
not until late in the morning. After several
years of hunting bedding areas in the morning,
I've only seen a few bucks actually bed
down. instead of bedding, the bucks cruise
through with the intention of checking as
many does as possible before moving on.
They jump them up, sniff around and then
move on.
As the sun begins to rise, the does will
start to show up first, usually right after first
light. Generally, they are by themselves or
in small family groups with another doe or
two and a few fawns. The bucks usually
don't start coming through until well after
sunrise. Some mornings they were so late
in arriving that l figured the show was over
before it even started only to see the first
buck about the time l would normally think
about climbing down. In other words, don't
give up too early—bedding areas can produce
action well into the late morning.
Possibly the best part about hunting
bedding areas at this time of the season
is the sheer number of hours that bucks
are active. lf you're hunting edges, the
activity slows shortly after sunrise. When
the deer disappear from these places,
where do you think they are heading?
That's right, toward doe bedding areas.
Deeper in the cover the bucks keep
moving for hours. The majority of the action
occurs during the first four hours of the
morning—actual|y the second, third and
fourth hours. I challenge you to find another
stand location where you can expect three
hours of activity each morning.
I remember hearing a humorous remark
by noted gun writer Craig Boddington. He
said, "Bowhunting is like shopping. Gun
hunting is like buying." Some mornings the
action in these bedding areas makes
bowhunting seem a lot more like buying, too.
At its best, the morning action is awesome
bordering on unbelievable, like the morning
I spent covered up by more than a dozen
bucks trailing two hot does that passed
right under my stand. The right time? That's
easy; a cool morning during the rut. The
right place? That's easy, too; A doe bedding
area is the handsdown pick. <–<<
Archived By
www.ARCHERYTALK.com
All Rights Reserved