Published by admin on 17 Nov 2009
Gator Gar Tactics
Bowfishing for carp is fun, but if you're ready to up the challenge and
go after something bigger, alligator gars present the ultimate bowfishing adventure!
By Mark Morrison
http://www.bowandarrowhunting.com/
Ask any avid bowfisher which species they'd most like to harvest and the answer, without question, would be the prehistoric, monster-sized alligator gar.  After all, these freshwater behemoths can reach 8 feet in length and stretch a scale over 250 pounds, making even the largest carp look minnow-like in comparison!
 So, it's easy to see why Bowfishing Association of America's Vice President Mark Ellenberg and longtime bowfishing partners Jerry Carstens and Adam Keller frequently travel from their central Minnesota homes to Arkansas and Texas to experience tackle-busting aquatic battles with gator gar.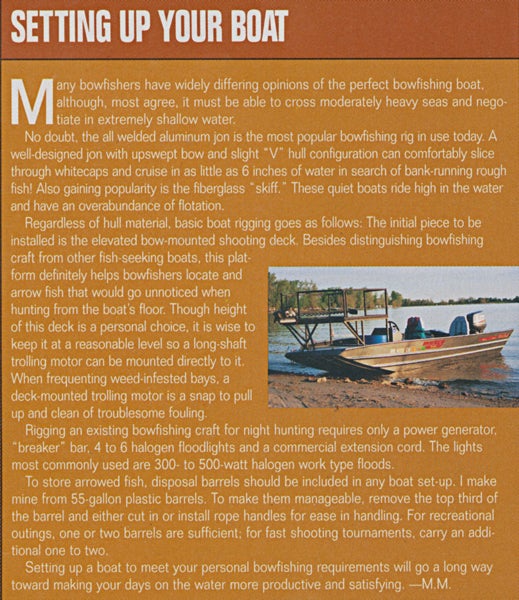 On their initial trip to southern Arkansas the trio teamed up with the BAA's official ambassador of bowfishing.  Lance "Sully" Sullentrop to match wits with Ouchita river alligator gar.  Lance, who resides in nearby Monticello and knows these waters intimately, had the boys into big gar from the start.  While Adam and Jerry prowled the main river channel for gar.  Lance and Mark moved into an adjacent meandering cove to continue their search.  Minutes later, Lance spied a slowly cruising gator gar mere feet off the boat's side and he instinctively fired a sharp Muzzy arrow into the fish's broad back.
 The solidly hit fish stripped Lance's line and floated free of his bow and settled into the security of a deep-water hole.  Lance retrieved his float and line and gingerly played the fish until Mark was able to place a second arrow into the beast.  The tremendous fish wasted no time burning Mark's line from his bow reel and sped away towing two large floats.  It took the two fishing archers some time to relocate the gar since it had fled into a deep channel and submerged both floats from sight.
 After a lengthy and nervous wait, the gar resumed its flight and the floats popped to the surface.  Mark quickly snagged the floats and carefully played the gar for a long, tiring 30 minutes until Lance was able to end the battle with a well-placed vital shot.  The gigantic gar spun the indicator on Lance's scale to a jaw-dropping 180 pounds!  The next day Mark, Jerry and Adam teamed up to collect another hard-earned gar—a well-fed brute that pulled the scale to a whopping 130 pounds!
Getting Gar Ready
 Before embarking on a trip for gator gar you'll need to update your current bowfishing setup.  Because big gator gar can splinter standard fiberglass fishing arrows like toothpicks, you'll want to move up to rugged aluminum and glass laminated shafts like Muzzy Product's Big Game and Penetrator arrows.  These arrows come rigged with cable and swivel systems that serves two purposes.  (1.) Most importantly, it keeps your reel's line out in front of the bow, eliminating possibly injurious backlashes, and (2.) if a hard fighting gar should snap your arrow you'll still be fastened to the cable and your fish.
 Unless you'd like to see a favorite reel or bow yanked overboard by a fast-fleeing gar, I strongly suggest using an AMS Slotted Retriever reel.  This reel is specifically designed for use with a float that pulls safely away from the bow when a trophy gar darts to the end of your line.  This allows you to follow the float, and the fish, until you're positioned for another shot, but it is capable of storing a large amount of fishing line, which allows fish hunters to take 20- or even 30-yard shots at gar.  No matter what style reel my bowfishing cronies and I use, we always replace the factory line with non-abrading gar-tough 400-pound test braided Fast Flight bowfishing line.
 Many times rolling or surfacing gar will present only fleeting shot opportunities, so carrying a fast-handling recurve bow is a smart choice.  If you choose to hunt gar with a compound bow, I suggest employing a round-wheel model or an inherently smooth drawing Oneida Eagle bow.  These bows cannot only be shot quickly, they also can be shot all day without fatigue associated with hard-drawing, extreme-cam bows.  Regardless of bow design, stick with a draw weight of 55 pounds or higher if you can easily handle it.  Gator gar have thick hides covered with glass-hard bony scales that will stop arrows cold fired from ultra-light draw weight bows.
 Sharp Points are Key
 Of course, bow poundage alone doesn't guarantee adequate penetration on a gar.  Most often it's the business end of the fishing arrow hat does this work and one of the best gar-getting points on the market is the Muzzy Quick-Release Gar point.   This beefy stainless steel head features non-yielding barbs and a surgically sharp Trocar tip designed for smashing through gar armature.  Plus, if you happen to dull the tip on an underwater obstruction, it's a snap to install a new, inexpensive replaceable tip.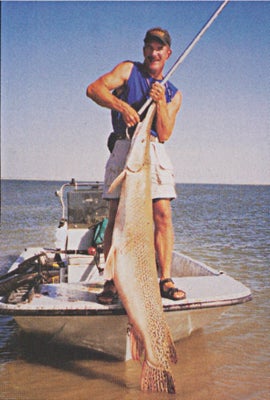 To accurately shoot gator gar you first need to spot 'em, so wear a quality pair of polarized glasses and a hat with a good sun-blocking brim ("boonie" style hats work great!) on daytime hunts.  Also, don't forget to bring along a hefty gaff for dragging skewered gar on board and a baseball bat or similar tool for finishing off arrowed fish.  The last thing you want is a 150-pound fish with a nasty disposition and deadly sharp teeth wildly thrashing in the confines of your boat!
 Where to Go
 While gator gar are present in all the Gulf coast states, Arkansas and Oklahoma, the best bowfishing occurs in Texas, Alabama and Louisiana.  When researching a gar-hunting locale, look for impoundments, rivers and estuaries that flow to the Gulf of Mexico.  Rivers like the Brazos, Rio Grande and Trinity in Texas and the Mobile Delta region in Alabama are all popular alligator gar hunting destinations.  To further aid in securing a place to hunt gar, simply use the Internet and type in "alligator gar" and search the sites you find.  Also, check out the bowfishing forums on the Bowsite, (www.bowsite.com) and the BAA's website (www.bowfishingassociation.com) as well as the Texas Bowfishing Association (www.prismnet.com/~timmckee/).
Calling and talking to area fisheries personnel in your prospective hunt area will also help nail down bonafide gar waters and hot spots.  Avid bowfishers living long distances from gar territory can also hire the services of qualified gator gar bowfishing guide.  Information and links to several guides can be found on both BAA and TBA websites.
 Boats are Needed
 Unlike bowfishing for carp and buffalo where it's common to wade and hunt in shallow water, to effectively hunt gator gar you'll need to employ a specialized bowfishing craft.  Not only is it much easier to spot gar from an elevated shooting platform, it is much safer than wading (in my experience) in waters that are also home to unsavory predatory critters like alligators and cottonmouth snakes!  The best time to stalk gator gar is at night, in a boat equipped for prowling the darkness (see boat set up sidebar).  During the hot summer months gator gar spend the bulk of their time loafing in deep water until dusk when they move onto shallow flats and up creek arms to feed.  Alligator gar can also be found in abundant numbers during the day, feeding and rolling in the fast water below dams.  In the spring, look for gator gar on broad shallow flats and in newly flooded backwaters as well as the previously mentioned creek arms.
Because gar spawn when the water warms during early spring, your chances of bagging a trophy are equally good when hunting day or night.  Regardless if you're hunting rivers or lakes, during the day or after dark do your bowfishing in areas with a rich supply of gator gar food fish.  Their favorite prey is buffalo and shad and if you locate concentrated numbers of these, you've found an excellent spot to waylay a feeding gator gar.
 Alligator gar are shy critters and they won't hesitate to sneak away from noisy bow fishermen.  We all remember fishing trips where our elders pounded into our heads the adage: "stay quiet or you'll spook the fish!"  This rule definitely applies to gator gar hunting.  If you're covering likely looking gar water with an electric trolling motor or anchoring among an active school of rolling gar you should keep boat noise to a hush.  Sometimes this can be the difference between just glimpsing a gar or getting a point-blank boat-side shot!
 Shoot Precisely
 And, when it comes time to take that long-awaited shot, make sure the gar is broadside or preferably, slightly quartering away so your arrow can find its way between the gar's steely, overlapping scales.  Do not fire an arrow at a gar directly facing you, because it will skid off the gar's armored hide and the fish will waste no time bolting for safer waters.
 You can bowfish for gator gar solo but smart bowfishers opt for the help an onboard partner affords.  This way, after a trophy gar is hit, one bowfisher can keep his full attention on tracking the float and maneuvering the boat around obstacles while the other readies for a second shot.
 Many bow fishermen are content plunking carp in backyard waterways, while others can't wait to tackle new and varied challenges.  If you're looking for the ultimate bowfishing adventure and don't mind tangling with fish that outweigh most whitetails and can bite back, then alligator gar bowfishing is for you!
 To obtain quality gator gar-getting equipment, contact Muzzy Bowfishing Products, Dept. BAH, 110 Beasley Road, Cartersville, GA 30120; (770)-387-9300; www.badtothebone.com or from the bowfishing fanatics at Sully's Bowfishing Stuff, 125 Westgate Drive, Monticello, AR 71665; (800)-447-2759; www.sullysbowfishing.com