Published by archerchick on 20 Mar 2010
Lore Of Elk Hunting – By Randy Templeton  May 2005
http://www.bowandarrowhunting.com
I was some distance from my friend C.J., but even so I was sharing the excitement he was experiencing when the red-eyed bull came in silently to my calls. It was the second bull I'd called within range in just under an hour. The first didn't show enough of itself to determine whether it was a legal bull or not. It was now just a matter of closing the deal with a well-placed arrow.
I'll be the first to admit that I like shooting elk, but I also enjoy calling one in for a friend, especially for those that haven't shot one. My first priority on this hunt was to call a bull for C.J. Davis, the PR director for Nikon. The season before he nearly had a solid shot at a fine elk but was betrayed in the final seconds by fickle winds.
I've been asked many times over the years what's the magnet that draws me toward the mountains during the month of September each year? I've answered that question by simply saying that elk hunting is the ultimate high- altitude experience. Once you've spent a week in the pristine wilderness you'll come back with an entirely different outlook on life. Let's take a look at our exciting hunt and perhaps you'll understand why so many hunters head for the mountains in pursuit of the mighty wapiti.
Saturday-Day 1
Our camp was tucked in the lower end of a canyon along a crystal clear stream rich with native brook trout. Once again we were using the outfitting services of Karl and Mona Maser of Ute Lodge. I've hunted the general area for 15 years and have killed an elk at least half of those years.
By 9 a.m. the packhorses and mules were loaded and we were at the trail-head. Arriving at our camp before noon, we unpacked our gear and rustled up some lunch. By 2 p.m. we were hoofing up the nearby mountain that I'd nicknamed "Hamburger Hill" after a movie I once watched. The canyon and surrounding mountainsides had fallen victim to a wildfire 10 years ago.
At first glance it doesn't appear to be a place anyone would want to hunt, much less expect to see elk. However, it's exactly why I'm drawn to the area. Hunting pressure is relatively low and the plush new growth attracts elk in numbers.
Arriving on the mountaintop by 3 p.m., we set up on the fringe of the firebreak where the first stand of green timber began. Fresh elk sign was plentiful, but week-old boot prints told the story that hunters had already been in the area. Not good.
My biggest concern was that the elk would be call shy, so I kept calling to a minimum. I'd gotten one bull to respond, but by the time I climbed to the bull's general location he had
hushed. The remainder of the afternoon/evening was uneventful. As we descended in the dark, a bull (not big) bugled from the vicinity of where I'd just been.
Sunday–Day 2
The first morning we awoke to the ring of the annoying alarm clock ar 3:45 a.m. The skies were clear and the temperature was hovering around 40 degrees. By 5 a.m. we were climbing up the face of "Hamburger Hill" and 45 minutes later we arrived at the top.
I pulled out my Primos Terminator bugle tube and let out a couple of immature bull bugles. Almost instantly the deep-growling grunts of a herd bull echoed off from the mountain on the opposite side of the canyon. Even from that distance the raspy bugles of the king pin made the
short hairs stand up on the back of my neck.
My friend's eyes lit up like a kid in a candy store. There wasn't any chance of persuading him to stay put. I had been in a similar situation some years before and was quite confident the elk would
be long gone before C.J. could arrive. The sun was just beginning to peak over the eastern horizon when he took off down the mountain. I
elected to stay put.
Shortly after working my way around to the north face of the mountain, a bull responded to my calls. After 45 minutes of playing cat and mouse I had closed the distance to maybe 100 yards, but I still hadn't laid eyes on the bull. It wasn't long after the wind betrayed me 'for the first time. The bull slipped off into the dark timber without making another peep.
A muzzleloader shot echoed through the canyon and the bull C.J. was chasing had gone silent. When arriving at camp I wasn't all that surprised to learn that a muzzleloader hunter had slipped between C.J. and the bull. As it turned out, all C.J.'s efforts that morning were fruitless.
That evening, about an hour before dark I thought it was all going to come together when a mediocre sounding bull blasted out a bugle in close proximity.  We quickly set up and began calling. The bull responded and started shaving off the distance.
I caught a mere glimpse of a tan rump circling downwind.  We tried to make a quick move to avoid detection, but when the elk let out a screeching bark we knew the jig was up and
the hunt over.  We tucked tail and headed back to camp.
Monday – Day 3
The second morning brought on a heavy frost and temperatures approaching the 30-degree mark. By 5:45 a.m. we had reached the mountaintop and split up.  We both had bulls answering our calls that morning, but by 10 a.m. they had shut up.
The evening didn't bring much excitement  Although two bulls were answering our calls, we were bitten again by the unpredictable winds.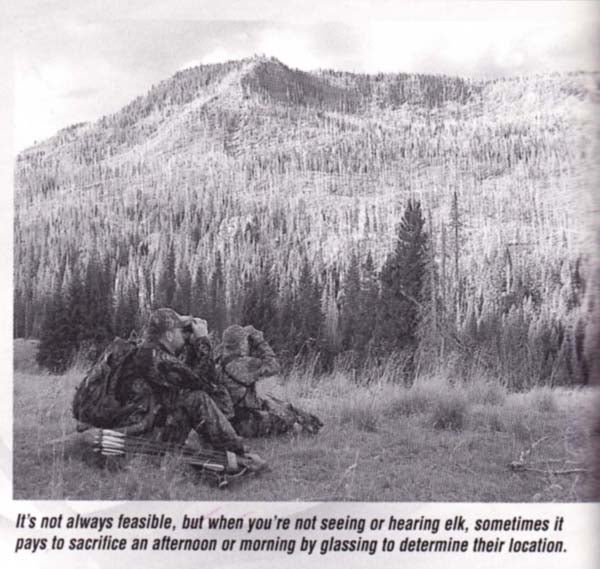 Tuesday – Day 4
On Tuesday morning C.J. and I split up in order to cover more area. I had no more than made my first setup when a small 4×4 bull came running to the Primos Hoochie Mama call. Although he stopped perfectly broadside at 18 yards, I opted to pass on the opportunity with hopes of tagging something a bit bigger. My friend had a bull working his way, but it failed to show itself.
That afternoon we hunted the same area as the first day.  I had three different bulls answering my calls plus what was almost certainly another hunter. In all my years of elk hunting, I,ve only been called in once and found it somewhat embarrassing. I've since been a bit more reserved about rushing to everything that sounds like an elk.  We opted to stay put and saw no elk that evening.
About an hour after dark we heard splashing in the stream outside the cook tent and rushed outside with a flashlight,  I spotted movement in the bushes and not long after Karl appeared. Evidently, he had used a log to cross the stream, lost his balance and fell in. He was soaked from head to toe. As it turned out, Karl was our mystery elk hunter. Having hunted up the opposite side of the mountain range in the afternoon, he had two close encounters with 5×5 bulls. On one instance he stopped in a small meadow and not long after he began calling and a bull suddenly
appeared from behind. As Karl tried to get turned around to shoot, the bull spotted him and vacated the area. The second encounter was nearly the same scenario, but again
Karl was unable to get the shot off.
Based on the number of elk seen and the amount of fresh sign Karl found on the way up, we made a decision to hike over the mountain the next morning. Karl had recorded the coordinates of several park meadows on his GPS, including where he had the encounters with bulls.
Wednesday -Day 5
For the week we had a couple of close encounters and one shot opportunity. Our skimpy luck wasn't due to our lack of effort nor because the elk weren't there. There were plenty of elk, but the cards just weren't falling in our favor.
The temperatures dropped into the low 20s that night, Leaving a thick layer of frost on everything. We took a different route up the mountain. After reaching the top we quickly moved toward a meadow where Karl had called in one of the two bulls. Moving from meadow to meadow, fresh calf-size rubs, wallows and droppings littered the landscape. Unfortunately, even though there was plenty of evidence of elk in the area, we failed to get a response.
Around noon Karl decided to begin hunting his way back down the mounrain. C.J. and I split up and hunted two meadows that were about a half-mile apart that afternoon.
About an hour before sunset two cows walked across the meadow and began feeding. I brought out the Lead Cow and Hoochie Mama calls and made a few chirps and mews. A raspy sounding bull answered almost immediately from the fringes of the far side. I continued using chirps and
mews, but threw out an occasional spike squeal to hopefully tick him off. I couldn't see the bull, but heard him ripping up a tree with his antlers. The bull wouldn't commit, so I decided to make the first move.
As I began skirting the edge to close the distance the wind shifted ever so slightly and the bull stopped calling.  Suddenly one of the cows let out a bark and elk took off running every which way.
A few minutes later I heard C.J. calling, then three distinctly different bulls answering him. This went on for nearly a half hour before they suddenly quit. At that point I was almost certain C.J. had connected. I couldn't have been more wrong.
When meeting at dark, I was surprised to learn that he hadn't seen or heard anything. As it turned our, he was set up too close to the edge of a fast-moving stream and the noise had drowned out all the elk bugles. The best I can figure is, the bulls had circled around and caught his scent.
Considering all the activity that evening, it doesn't take a genius to figure out where we'd be hunting the following afternoon.
Thursday-Day 6
I was up early with renewed enthusiasm. We decided to hunt the north face of the mountain in the morning and the south side that afternoon. Just before sunrise the growling bugle and chuckles of a herd bull echoed off the canyon walls. I was almost certain it was the same bull we
had nicknamed "the chuckler" and C.J. had chased the first morning. Other than that, the morning was a bust.
Wanting to arrive early to our newly found honey hole, we made record time climbing to the top that afternoon. We quickly hoofed up the steep ridge where I heard the three bulls answering C.J. the evening before.
Shortly after setting up, a bull answered further up the mountain. To confirm the location, I bugled once and got a response back.  We hustled up the mountain to cut the distance in half. Alternating between spike squeals, cow mews and chirps, the bull answered almost immediately.
I moved back 30 yards from C.J. and called again. A stick cracked and suddenly a bull appeared
from behind a cluster of stubby cedar trees, maybe 25 yards from C.J. I listened for the shot but
heard nothing.
Within a couple of seconds, the bull swapped ends and split the scene. As he headed for higher ground I could see four points on both sides. Although most first-time elk hunters dream of shooting a record-book bull, C.J. was just hoping to connect on something legal. Unfortunately, in this instance he couldn't tell if the bull was legal or not until it charged off.
No problem, I thought, we'll just see if we can't call up
another.
Continuing to work the mountainside, we had three other bulls respond. In one instance I thought the bull was going to commit, but for unknown reasons he shut up. About a half-hour before sunset we began working our way down and came upon a relatively flat shelf. There was
a lot of fresh sign and it looked like a great location to call up a bull. I moved back 30 yards from C.J. and put out a few drops of Mrs. Doe Pee's Fresh Cow Elk Lure in two locations, both upwind and downwind.
Alternating between the Primos Lead Cow and Hoochie Mama, I made several cow calls and bugled once.  A couple of minutes later I heard a stick crack and then heavy foot
steps from above. I looked up just in time to see the antler tips and ran rump of a bull prodding down the mountain. Suddenly the bull stopped 30 yards from C.J. I felt the wind at the back of my neck blowing toward the bull, so I quickly pulled out my wind checker containing elk scent
and gave it a couple of squeezes.
I watched C.J. draw, but he didn't shoot. Something told me that he didn't have a clear shot,
so I made a few soft mews. About the same time the bull made one step forward, I heard a thump. Instantly the bull whirled around and charged back in the same direction.
Although C.J. felt the shot looked good, the results of a quick search of the area for blood didn't paint a very promising picture. Blood was sparse and we didn't find the arrow, which meant it might not have passed completely through. Like any other suspect hit, rather than make matters worse we decided to return in the morning. Temperatures had been hovering near freezing so we were confident the meat wouldn't spoil.
Friday-Day 7
It was a restless night for both of us, but more so for C.J. I reassured him that we'd find his bull.
By 8 a.m. we had climbed the mountain and began our search. Starting where we left off it wasn't long before the blood trail petered out. Rather than wander around aimlessly looking for blood, I flagged the last location and we started a grid search looking for blood. After an hour of fruitless searching, we split up. It was maybe 10 minutes later when I heard C.J. hollering, "I found him!"
I found C.J. sitting proudly over his first elk, a 5×5 Colorado bull.
Unfortunately our decision to leave the bull overnight had cost us part of, the hindquarters to the coyotes.
It took nearly three hours to skin, quarter and pack the meat to a location where Karl could get to it with the packhorses.
As mentioned earlier, my first priority on this hunt was to call in an elk for my friend. I was able to
accomplish that, plus I had an opportunity to shoot a 4×4, but I chose to pass. I'll be the first to
admit that every hunt hasn't ended with filling my tag, but for me elk hunting is more than that. The lore of elk hunting is spending time with good friends each fall chasing one of
the most elusive big-game animals of all. If I take home an elk, that's just
icing on the cake. <–<<
Archived by
ARCHERYTALK.COM
all rights reserved